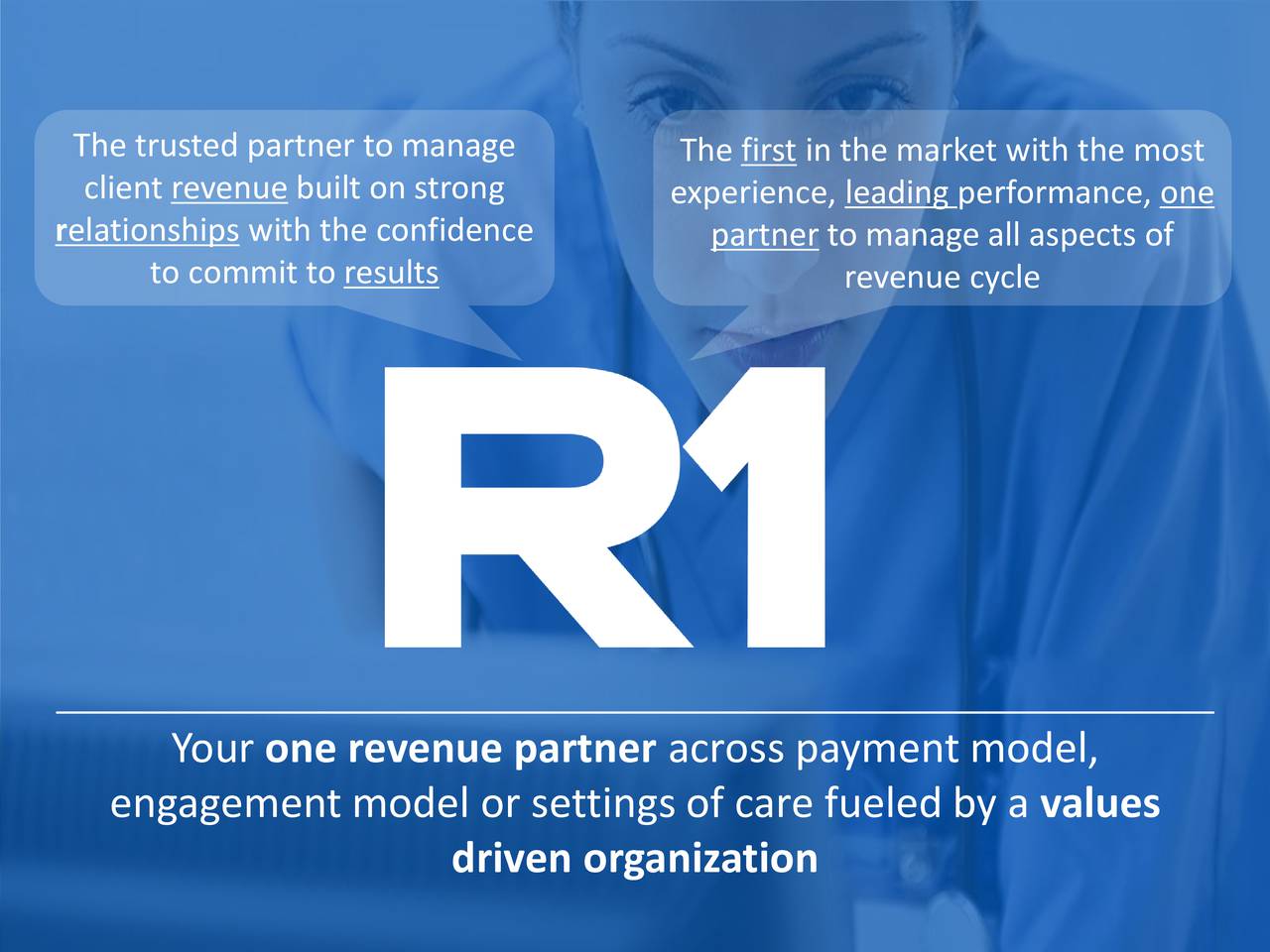 Today, R1 RCM announced an expanded partnership with Intermountain Healthcare to be the exclusive RCM provider across all Intermountain patient care sites, including inpatient and preventative care settings. The expanded relationship enables the transformation of Intermountain's revenue cycle process for RCM performance improvement, cost savings and other positive impacts to efficiencies, but more importantly to the patient experience. Intermountain will rely on R1 to provide and manage the full spectrum of RCM needs.
In conjunction with this partnership, R1 and Intermountain will create a world-class RCM product development and technology solution center in Salt Lake City, Utah. With a team focused on cultivating leading revenue cycle solutions co-located alongside RCM operations, this center of excellence is poised to be at the forefront of the healthcare industry's financial transformation. Intermountain currently employs a regional focus for RCM operations like many other health systems across the country; consolidating RCM operations into a single-geography footprint will help reduce costs while optimizing operational efficiency and quality. As part of the arrangement, R1 will welcome 2,300 Intermountain Healthcare employees to be part of R1.
Since 2011, Intermountain has leveraged R1 through a co-managed service model where R1 worked in combination with Intermountain's revenue cycle operations team to optimize operations from scheduling and patient access through claims and payment. The expanded relationship centers on an operating partner model for fully managed revenue cycle operation across inpatient and preventative care settings. Intermountain will rely on R1 to provide and manage the full spectrum of RCM needs.
With R1's investments in developing the technology and commercial infrastructure needed to optimally run end-to-end revenue cycle operations for large health systems, Intermountain will be able to focus on creating more seamless, cost-effective, efficient, and patient-centric revenue cycle operations across the enterprise. R1 will also play a consultative role with Intermountain in this integrated RCM approach amidst an evolving healthcare landscape, and one where clinical outcomes link directly to the revenue cycle.
"We have a self-issued challenge to innovate our own organization as we look to the type of health system we want and need to be for patients, members and communities in the years to come," said Bert Zimmerli, executive vice president and chief financial officer of Intermountain. "As we look toward providing the highest value at the lowest cost, transitioning our revenue cycle operations to R1 is a critical part of this evolution. R1 has proven the value it delivers to the business side of what we do, and the continuous advancements in the company's services and technology allow us to expand our relationship with them."