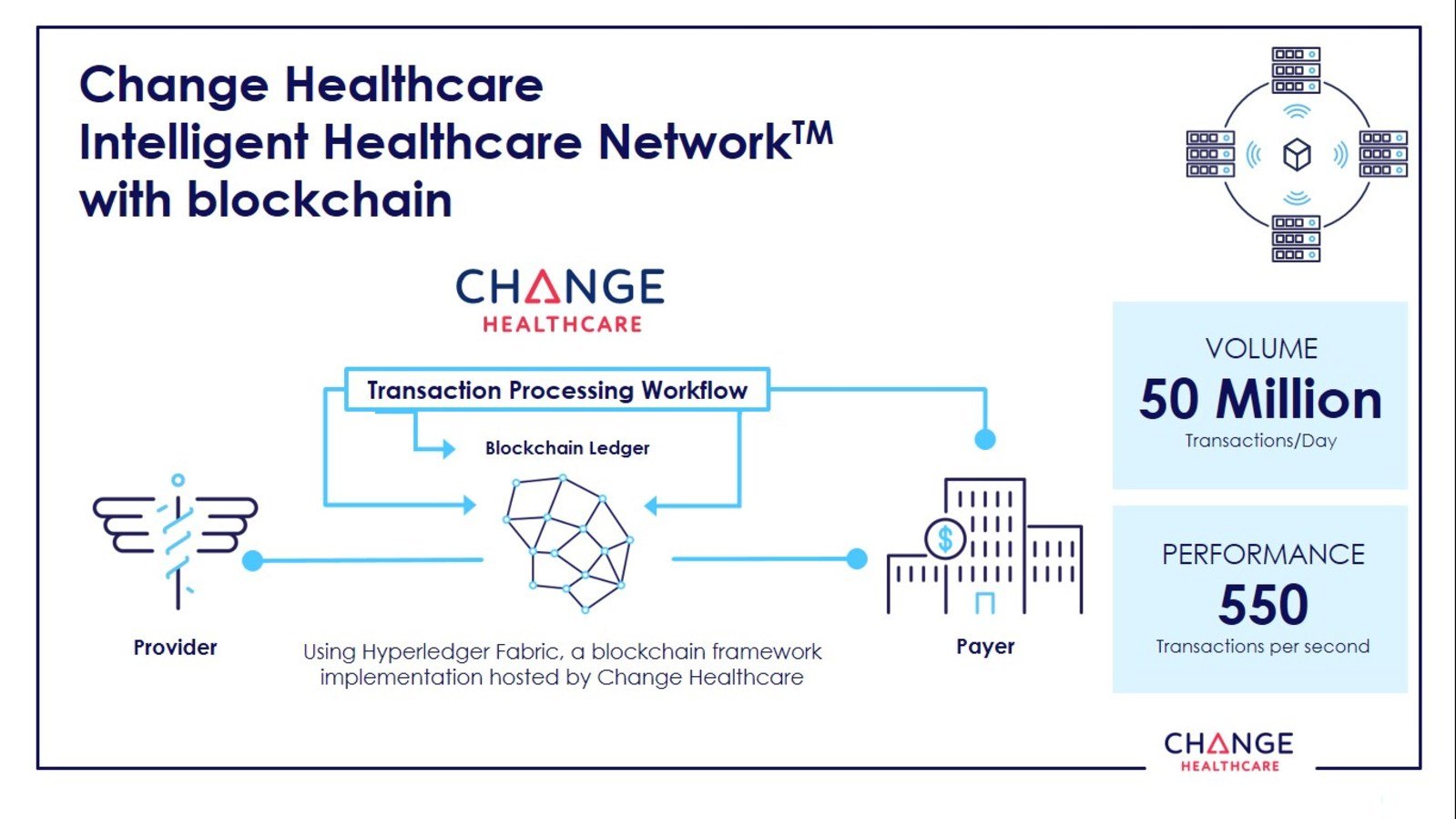 On Monday, Change Healthcare announced the general availability of its blockchain-enabled Intelligent Healthcare Network featuring claims management transparency, making it the first enterprise-scale blockchain in healthcare. Leveraging blockchain technology, organizations can accurately track, in real time, the status of claims submission and remittance across the complete claim lifecycle. In addition to improving transparency and efficiency, the incorporation of blockchain technology in the Intelligent Healthcare Network enables greater auditability, traceability, and trust—all for better revenue cycle management. Change Healthcare hopes that the single source of truth created by a blockchain will spark innovative new services for a more streamlined, patient-centric health system.
Change Healthcare used Hyperledger Fabric™ 1.0, an open source blockchain framework and one of the Hyperledger projects hosted by The Linux Foundation, as the foundation for its blockchain application design and development. As a Premier member of the Hyperledger Governing Board, Change Healthcare is contributing code innovations back to the open source community to improve blockchain applications for global healthcare and other industries.
As one of the largest independent healthcare IT companies in the United States, Change Healthcare services customers across the continuum of care. The Intelligent Healthcare Network is used to process clinical, administrative, and financial transactions among hundreds of thousands of healthcare industry stakeholders (physicians, hospitals, and other providers as well as commercial and government payers), including processing over $2 trillion in claims annually.
Working with customers and partners from throughout the industry, Change Healthcare is introducing value-added services and advanced analytics daily. The Intelligent Healthcare Network is currently processing more than 50 million claims events daily and up to 550 transactions per second through its blockchain. This capacity and speed significantly exceeds the daily national transaction load and throughput requirements of the network and provides headroom for additional scale as blockchain technology adoption grows. A significant increase in this performance baseline is expected as the solution is further optimized and scaled to address demand.
"With this solution, we've demonstrated that blockchain technology can be effective for high-data volume, high-throughput transaction processing in healthcare," said Aaron Symanski, chief technology officer, Change Healthcare. "This expands our opportunities for innovative new products and solutions that leverage blockchain—several of which we have already started to explore."
One area of exploration is using blockchain technology to provide a single source of truth for accurately tracking and providing visibility to the complete patient healthcare encounter, starting from when an individual might arrive for a preoperative visit, all the way through the procedure and care received, to billing and then payment. "Not only could blockchain technology enable accurate tracking because of its immutability, the ability to make that visible to everyone involved in the encounter opens the door to create a more patient-centric experience and streamline processes, which benefits everyone," noted Symanski.