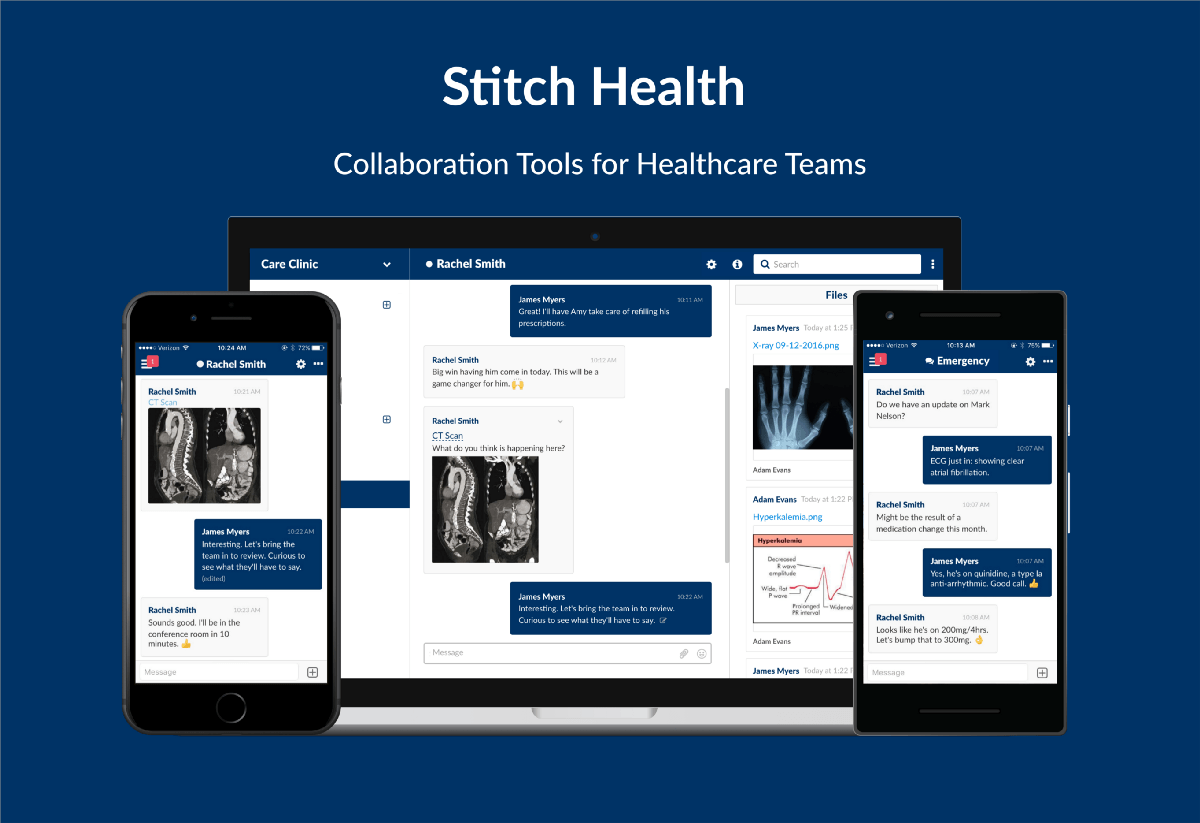 Today Stitch Health, which aims to make it easy for healthcare teams to provide incredible patient experiences, unveiled their new care coordination platform for providers to work better together. The company's HIPAA-compliant, cross-platform (desktop, iOS, and Android), searchable by a patient, and integrates with existing electronic health records (EHRs). The platform offers tools for three categories of healthcare work: team communication, patient engagement, and patient management.
Stitch Health serves as the home base for healthcare teams to work together. Stitch Health replaces the fragmented use of pagers, phone calls, EHR message baskets, spreadsheets, and emails with a single product. It does this through a user-friendly application that models provider workflow and presents patient health data in the context of team chat rooms, care checklists, and patient conversations. By offering a product that replaces archaic, fragmented tools in the healthcare system, Stitch Health hopes to make it easy for healthcare teams to provide incredible patient experiences.
 The company also announced their Series A led by Benchmark, and Bill Gurley will be joining the board. Stitch has already signed on over 70 paying healthcare organizations, including teams at Luminance Recovery, Princeton Brain & Spine, and the Dermatology & Skin Surgery Institute. 
Today, it's harder than ever for healthcare organizations to provide great customer experience. Healthcare teams are interdisciplinary and require complex coordination. Patients expect to smoothly access their care through multiple mediums: in the office, by video, through messaging or via self-service portals. However, healthcare teams rely on archaic and fragmented communication tools, which make it difficult to deliver a great patient experience.
In fact, this is the biggest problem healthcare organizations face in meeting patient demand, with ​ 96%​ of patient complaints being related to customer service, while only 4 percent are about the quality of clinical care or misdiagnoses. Poor collaboration has high clinical costs as well, with medical errors being the ​ third leading cause​ of death in the US and ​ 30 percent of malpractices cases​ are a direct result of communication failures.
Stitch's three core offerings – Connect, Engage, and Manage – are specifically for healthcare teams and how they work, focusing on both the providers themselves and the patients they care for:
● Stitch Connect​: Now available in GA to any healthcare organization, Connect allows team members to communicate with one another about patient care.
● Stitch Engage: ​ Launching in Beta, Engage allows healthcare providers to communicate with their patients.
● Stitch Manage: ​ Launching in Beta, Manage gives providers the ability to oversee individual patient relationships.Stitch Health has already seen steady growth and strong product engagement, with more than 70 paying healthcare organizations and 1.5 million messages sent by providers collaborating on patient care.
The company is currently focused on SMBs actively looking to improve the patient experience, including primary care clinics, behavioral health centers, home health agencies, independent pharmacies, and more.