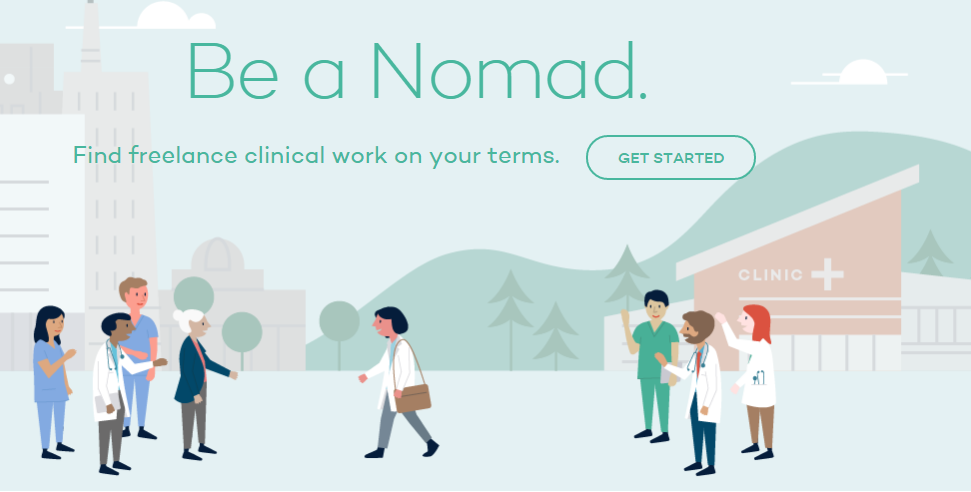 Nomad Health, a NYC-based freelance platform for doctors and nurses today announced that it is broadening its innovative technology to connect doctors directly with telehealth employers – making it the first online marketplace for telemedicine jobs. Starting today, doctors nationwide can now apply to telemedicine jobs, which are digitally transforming healthcare delivery and helping to solve doctor shortages in the United States.
Telemedicine is an increasingly important mechanism to increase access to and reduce costs of care. The promise of telemedicine is especially valuable to areas that are suffering from critical doctor shortages. According to the U.S. Health Services and Resources Administration, over 65 million American currently live in "primary care deserts," areas where access to primary care is either limited or non-existent. Today's announced telemedicine expansion allows Nomad Health to help innovative telemedicine companies find and hire great doctors to serve patients remotely. Doctors now have a simple way to find and do clinical work from the comfort of their homes, and telemedicine companies, like American Well and First Stop Health, are using Nomad to hire more efficiently and effectively without middleman recruiters.
As for growth, telemedicine is projected to have seven million patient users by 2018 and to become a $36.2 billion industry as early as 2020. Approximately 90% of healthcare executives report that their organizations are already using or beginning to implement telehealth platforms, be they proprietary or one of the many independent services that have proliferated in recent years. Among consumers, 73% say they would discuss a health concern with a virtual doctor, and over half would use it for an annual physical exam.
Nomad Health is already working with more than ten of the nation's top providers of telemedicine, and the number of jobs on the platform has been growing quickly. Openings include tele-urgent care, teledermatology, and telepsychiatry jobs.
"Thanks to modern technology, doctors are returning to their roots and seeing patients at home. The comfort of easy access to high quality care is leading to extraordinarily high satisfaction for telemedicine doctors and their patients," said Dr. Nazem, Nomad Health's CEO and Co-founder in a statement. "Telemedicine is a win-win, and Nomad is so pleased to help drive this medical technology revolution forward."