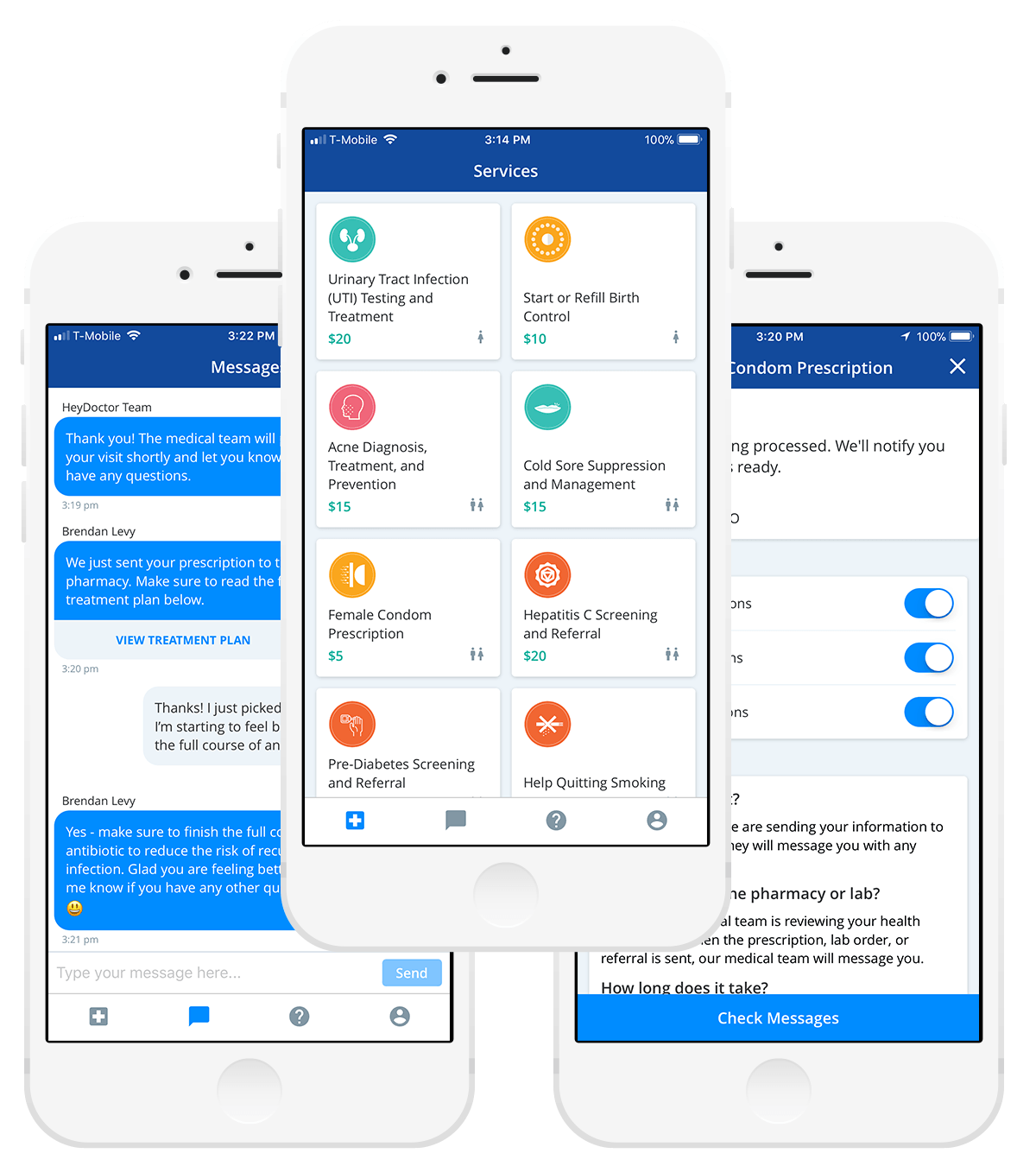 HeyDoctor, a medical app developed and backed by Sappira Inc., a San Francisco-based telemedicine firm has announced the launch of its new app that allows its doctors to prescribe low-cost treatment over text in minutes. HeyDoctor is designed to care for many common ailments without the hassle of video conferencing at over 50% lower cost than leading online competitors. The app is available on both the Apple iOS and Google Android mobile platforms.
The app was developed by Dr. Brendan Levy, a Georgetown-trained family medicine doctor, and Rohit Malhotra, a San Francisco tech developer and lawyer with the goal of finding a way "to make healthcare suck less." Dr. Levy noted how "so much time is wasted in traditional healthcare. I've had patients sit for hours in a waiting room for basic issues that required only a couple of minutes. I knew there had to be a better way to connect with my patients." Furthermore, they both hope that HeyDoctor will not only provide immediate access to treatment for busy professionals, but also bring healthcare to those who struggle to find reliable, in-person care, including patients in remote locations, students, parents, people with a lapse in health insurance, and others who are underserved by the current healthcare infrastructure.
Pricing & Availability
HeyDoctor requires no health insurance and provides a wide range of primary care clinical services including include birth control, STD testing, and treatment for UTIs, acne, tobacco addiction, cold sores, and more. Most HeyDoctor consultations cost less than $20.
HeyDoctor will also offer individual and group memberships that provide additional savings. All consultations are handled by US based board-certified physicians, and HeyDoctor will continue to expand into more states as medical licenses and regulations allow. Prescriptions for medications can be picked up at a local pharmacy, sent by mail order, or in some cities be delivered directly to patients in under 2 hours.
HeyDoctor is currently available in Arizona, California, Connecticut, Florida, Georgia, Illinois, Indiana, Missouri, Montana, Nebraska, New York, Ohio, Oregon, Pennsylvania, Rhode Island, South Carolina, Vermont, Virginia, and Washington. HeyDoctor will become available in Alaska, Colorado, Delaware, Kentucky, Mississippi, New Mexico, Tennessee, Texas, Wisconsin, and Wyoming within the next 90 days, covering 80% of the US population.