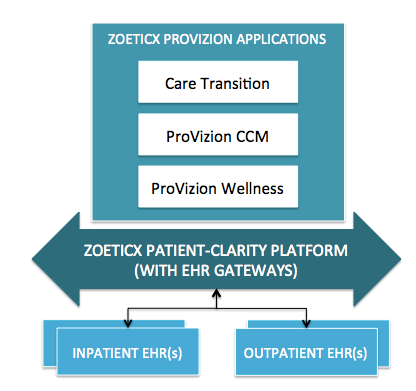 Zoeticx, Inc., a provider of medical software that bridges the gap between medical data and quality patient care has launched ProVizion Wellness, a cloud app that streamlines data integration for Annual Wellness Visits (AWV) covered by CMS and private insurers. Hospital systems and other healthcare facilities will benefit by offering this service and creating new revenue centers through reimbursements by government and private insurers.
Zoeticx ProVizion Wellness addresses all requirements for AWV, including:
– An integrated solution with any deployed EHR system without data duplication, removing all manual intervention from IT staff to keep both systems in sync.
– A solution with minimal workflow impact.
– Management capabilities to support tracking ability on population progress for AWVs.
– A detailed physical assessments guide through physical preventive examinations.
– Mapping of risk factors with potential medical diseases for patient follow-up visits.
– Personalized schedule and advice reports to patients.
– Support log and audit for insurance reimbursement.
Patient-Clarity Platform
The ProVizion Wellness application leverages the Zoeticx Patient-Clarity platform that enables electronic health record interoperability, patient medical data reconciliation and bi-directional medical information flow for patient care. The platform is a patient-centric middleware solution designed to enable patient medical information flow from diverse EHR sources, presenting patient medical data over the whole care spectrum, transforming passive patient medical data into actionable information. The data architecture is SOA IaaS (Information as a Service), fitted to address operational care environments as well as avoiding data duplication from deployed EHR systems.
ProVizion is currently deployed at the Rehobath McKinley Christian Healthcare Services (RMCHS) in Gallup, New Mexico, an integrated, rural non-profit hospital that serves a large community suffering from alcoholism and requiring behavioral treatment.
"Our residents will benefit greatly from this healthcare application," said David Conejo, CEO, RMCHS in a statement. "We welcome a streamlined, interoperable system that will enable us to transparently connect with our clinics, expedite treatment and bring in new revenue streams." Conejo also recognizes the benefit ProVizion will bring to RMCHS for revenue growth fueled by patients requiring follow-up care from AWVs and future healthcare needs.