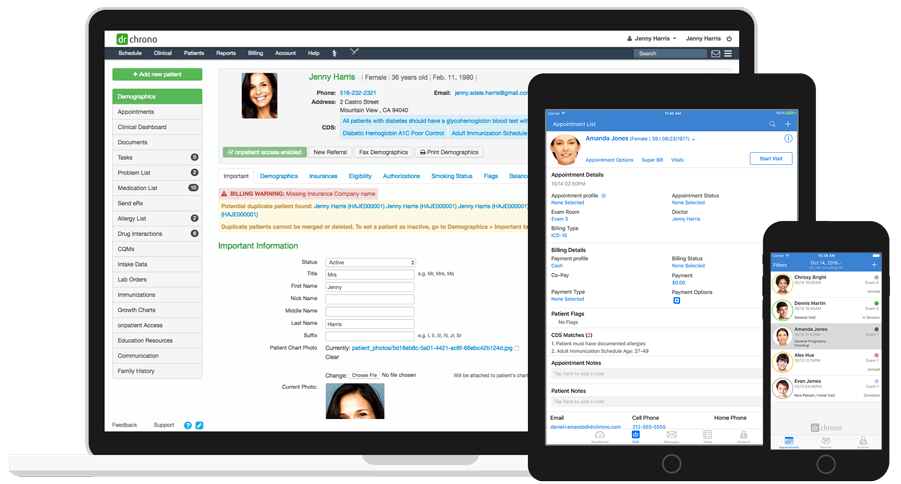 Mobile EHR provider drchrono Inc., today announced the launch of its new enterprise Unified Task Management that improves workflow for physicians and staff, allowing them to create tasks, including recurring tasks, from wherever they are in the platform. Physicians and staff can now assign tasks to teams/groups of people, such as the front desk team, and have information automatically populate right into the specific task.
Providers can attach lab results, clinical notes, medications and refill requests to a task. Launching a task within the EHR allows the task creator to pull in information with context from the relevant screen they are on, letting the tasker work more efficiently. For example, if a doctor is working on a specific patient's chart and they need to create a task for a medical assistant (MA), the physician can import all of the relevant information with a few clicks or taps, not having to retype any information; it is a "smart" task where applicable information is attached.
In addition, drchrono's new Task Dashboard gives the practice a view of all tasks from open to closed, statuses and priorities and the time it takes to complete a task. The Task Dashboard is ideal to view where a specific task is taking too much time and needs to be optimized. Also, care teams can see when a specific group of tasks are urgent, things bubble to the top of the Dashboard clearly for the team to see what needs to be completed first.
These features will also be part of drchrono's new Task Management:
– Real-time reminders and notifications for staff, for example push notifications from iOS.
– Triggering tasks from the provider filling out a medical form. For example, if a physician is seeing a patient, filling out a medical form, and taps a trigger element, a task can be created automatically to schedule a follow up visit, and then the staff will see this new task and make the appointment with the patient.
– Adding subtasks within tasks to create more complex workflows. For instance, if the physician wants to schedule a patient for surgery, he/she can assign a task to the surgical coordinator to book the surgery, but that involves subtasks (such as checking benefits, getting prior authorization and/or calling in prescriptions).
With the new workflows, if the front desk staff notices that something hasn't been completed, they can call in the prescription or follow up on other tasks.
"The new Task Management provides a much more sophisticated workflow for larger practices who are reviewing large amounts of patient data, taking copious notes, and filling medication and lab requests daily, and want to do it all in a more efficient manner," said Daniel Kivatinos, Co-Founder and COO of drchrono in a statement.  "Our end goal for this is that a practice using Task Management would be able to do complex workflows, for example if a patient walks into a practice, the doctor sees the patient, the physician can trigger a lab test for a blood draw, which triggers a staff member to draw blood, then sends the request to the lab. Once the patient's lab results are back in drchrono, the Task triggers the next step, for the physician to review the labs, then alert the staff to call the patient to come back in to review the labs with the physician in person. This would greatly improve efficiencies and information flow for both the practice and the patient."