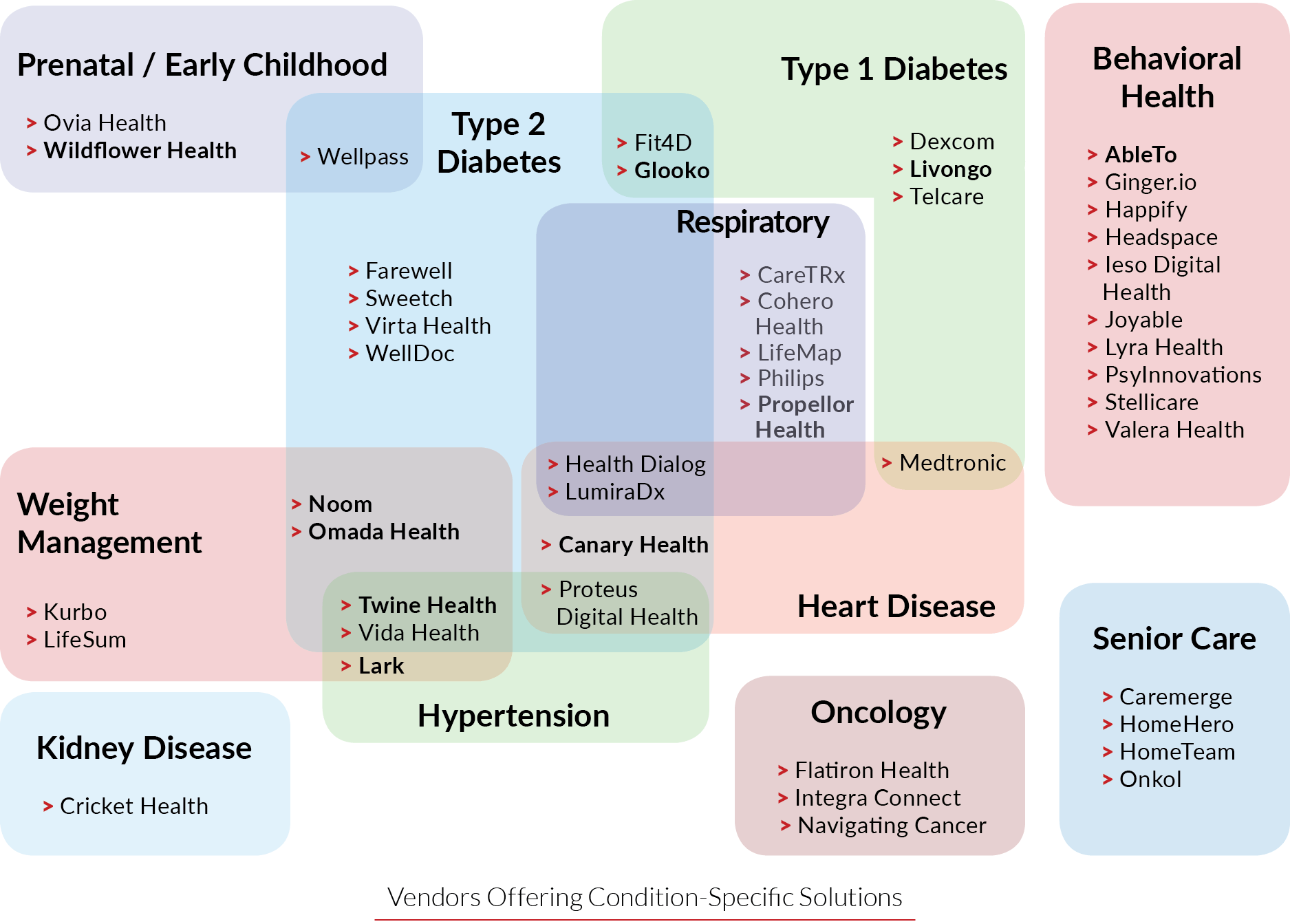 Key healthcare stakeholders are accelerating the adoption of more personalized and holistic approaches to chronic condition management, driven by continuing concerns about rising healthcare costs. Health insurers and self-insured employers continue to lead in adoption with providers continuing to be laggards according to the latest report from ChilmarkResearch.
The Assessing the Market for Condition Management Solutions Market Scan Report describes the critical market trends in the healthcare industry that are driving the growing interest and adoption of these solutions.  One key finding is that the solutions arriving in the market today are far more comprehensive, addressing not only the chronic condition itself but contributing behavioral issues as well, helping patients manage their daily lives – and not just their symptoms.
Tellingly, most vendors of condition management solutions indicate that they sell primarily to payers and employers. These are the stakeholders that currently bear the greatest financial risk for those with chronic conditions. The advent of new solutions that combine behavioral health, motivation and disease management is leading to new levels of proactive engagement by the patient in self-management of their disease, subsequently lowering financial risk.
Provider organizations, on the other hand, remain largely focused on more static and episodic approaches to condition management as financial incentive models for providers are still by and large fee for service. Today, providers are conducting numerous pilot studies using such solutions but have yet to scale adoption to any significant degree. The increasing shift in risk to providers via value based care models, however, will dramatically accelerate adoption for such solutions from 2020 onward.
"Condition management is much more popular with stakeholders who are financially motivated to reduce costs and improve outcomes for program participants. Right now, that means payers and self-insured employers are adopting the solutions," said Brian Eastwood, the lead analyst for this report. "Until risk-based contracts provide greater incentives – and penalties – for provider organizations to take on that kind of responsibility, it won't make financial sense for providers to adopt condition management solutions."
The report catalogs nearly 50 vendors that operate in 11 different and sometimes intersecting market segments, including Type 1 and 2 diabetes, weight management, mental health, and hypertension. This research identifies challenges and opportunities that solution vendors face as they strive to gain market traction; it also describes how payer, provider, and employer stakeholders can more effectively partner with vendors in order to drive adoption, expand condition management programs beyond the pilot phase, build extensible platforms, and achieve greater long-term healthcare cost savings.
This report profiles 10 key vendors that are representative market leaders due to factors such as brand awareness, market visibility, evidence-based protocols, proven outcomes, ease of use, and product vision. The report assesses the maturity of vendor solutions with regards to functionality across the market for four key condition management processes: Participant enrollment, care management, engagement, and program follow-up.
Current and prospective vendors of condition management solutions will find this report valuable, as will providers, payers, or self-insured employers looking to buy or replace a condition management solution to help manage a specific cohort population. Consultants, investors, patient advocates, and others will all benefit from this in-depth report.
For more information about the report, visit www.chilmarkresearch.com/. 
A free webinar accompanying the release of the report can be viewed below: