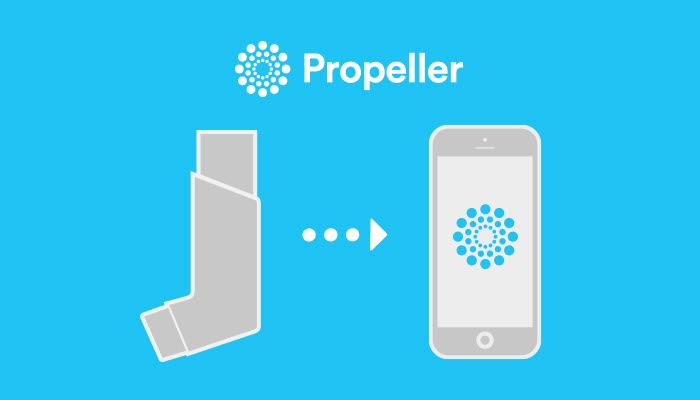 Propeller Health, a digital health company developing solutions respiratory medicine has announced the expansion of its 2015 collaboration with GlaxoSmithKline (GSK). As part of the expanded partnership,  both companies will undertake commercial activities using the Propeller clip-on sensor and software platform for use with GSK's ELLIPTA Inhaler. The companies will continue ongoing research and development efforts to collect evidence from the Propeller clip-on sensor and software platform used in conjunction with GSK's respiratory medicines for asthma and COPD.
The least announcement follows successful CE marking and US FDA 510(k) class II clearance of the Propeller sensor and software program for the ELLIPTA Inhaler, in late 2016. The clip-on sensor for the ELLIPTA Inhaler automatically records medication use, which the Propeller platform analyzes and presents to patients and physicians through its data-driven digital interfaces, providing an in-depth view into adherence.
The Propeller platform has been used by patients and physicians in over 55 commercial programs across the United States, including major healthcare systems, payers, employers and other commercial partners. It is compatible with the majority of commonly used asthma and COPD inhaler devices including controller and reliever metered dose inhalers (MDIs), and other inhaler devices (dry powder inhalers (DPIs) and soft mist inhalers (SMIs)).
The ELLIPTA inhaler is a platform inhaler device that is being used by GSK in the development of a range of innovative medicines across its clinical development portfolio for respiratory diseases.
"We are excited to be working closely with GSK to make the sensor for the ELLIPTA inhaler available in our commercial programs, and for the first time, as part of commercial pilots with GSK outside the US," said David Van Sickle, CEO and co-founder of Propeller in a statement. "Companion digital experiences simplify and personalize the management of chronic respiratory disease, and help ensure individuals and their physicians realize the benefits of inhaled medicines."