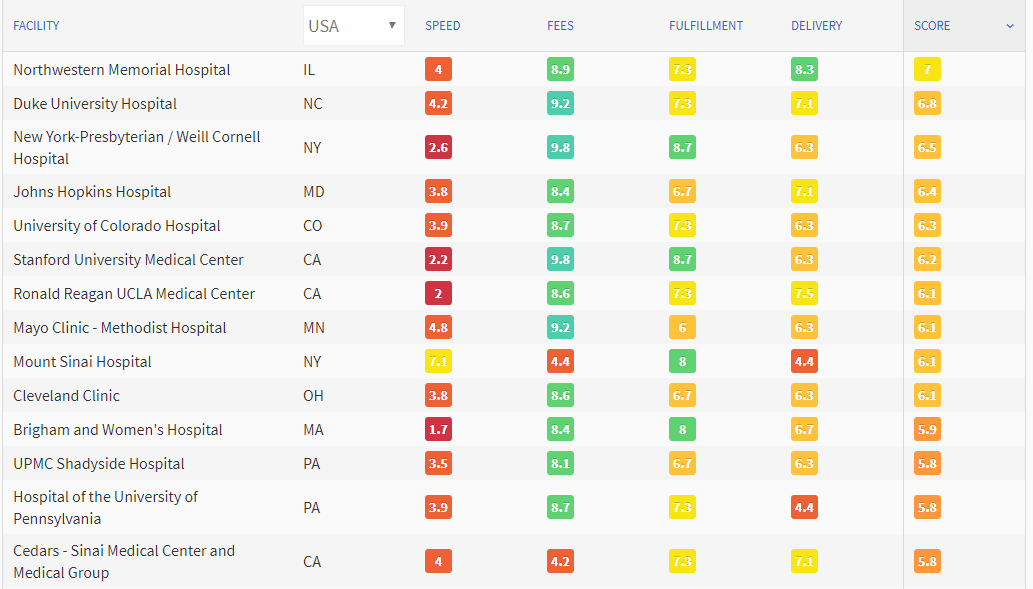 PatientBank, a San Francisco, CA-based platform for gathering and sharing medical records has announced the launch of a national scorecard based on the performance and compliance of hospitals' medical record departments. Developed the rankings in an effort to bring transparency to an often overlooked aspect of hospital quality, the scorecard illustrates the hospitals that are adding ease and efficiency to an optimized medical record process. 
Based on PatientBank's scoring formula, South Lake Hospital, located in Clermont, Florida; Kaiser Permanente Downey Medical Center in Downey, California; and Lee Memorial Hospital in Fort Myers, Florida shared the top spot. All three hospitals scored a total of 8.5 out of a possible 10.
PatientBank developed the following guidelines for measuring the effectiveness of hospitals in responding to patient requests for records:
– Speed: How long does the hospital normally take to respond to requests for records, ranging from 1 (slow) to 10 (fast)? Under the Health Insurance Portability and Accountability Act (HIPAA), hospitals are given 30 days to respond to patients' medical records requests.
– Fees: How much does the hospital charge patients for medical records, ranging from 1 (no fee) to 10 (very expensive)? Hospitals are allowed to charge patients a reasonable, cost-based fee under HIPAA. The PatientBank score considers per page cost and whether the hospital also charges prepayment.
– Fulfillment: How capable is the hospital in returning medical records in the form and format patients ask for? Is the hospital able to return records in an electronic format? The range is from 1 (very limited) to 10 (very flexible). According to HIPAA, a hospital is required to return patient records in the form and format requested, if readily producible.  
– Delivery: How does the hospital allow patients to submit requests for records (for example, by fax or email)? Are there additional requirements for the request (for example, to fill out the hospital's own form or to submit prepayment)? These policies are ranked from 1 (strict) to 10 (flexible). HIPAA does not permit hospitals to require patients to use only certain delivery methods, such as mail or in-person delivery.  
Looking at the U.S. News & World Report's 2016-17 Best Hospitals Honor Roll, it is evident that medical records performance is routinely overlooked, even by the country's best hospitals. While some hospitals on the US News Top 20 list also excel in medical records performance (for example, Northwestern Memorial Hospital, Chicago and Duke University Hospital, Durham, N.C. score in the top 90% percentile nationwide), in aggregate the U.S. News Top 20 scores an average of 5.9 out of 10 on medical record performance, which is only as high or higher than 60.5% of the hospitals in the U.S., according to PatientBank's ranking.
Founded in 2015, PatientBank helps people gather and share medical records online. The company's platform allows users to order medical records from any healthcare facility in the country. While requests for medical records are normally submitted via fax or mail, PatientBank brings the process online, making it easy to request and share medical records in a secure and convenient way.  To date, the company has processed medical records requests to over 6,900 hospitals across the United States. 
"Medical records performance is a critical yet often overlooked factor of hospital quality," said Paul Fletcher-Hill, CEO of PatientBank in a statement. "With the release of this national scorecard, we're hoping to celebrate hospitals around the country that excel in this area, while also bringing more transparency and focus to the medical records process in general."