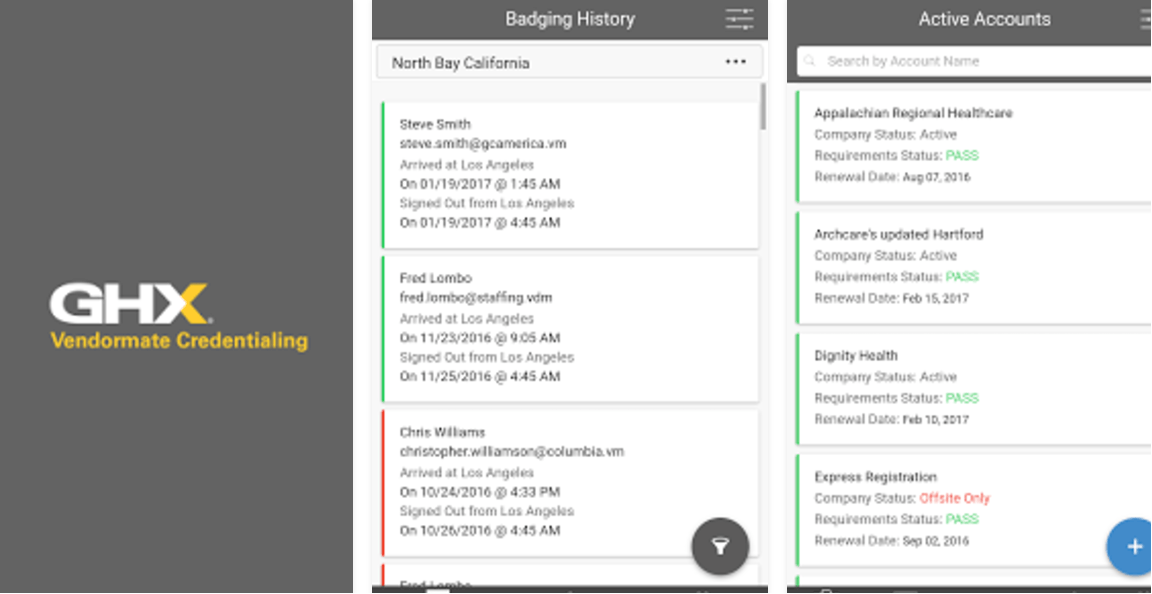 Today, GHX announced the GHX Vendormate Credentialing mobile app, the first mobile solution available to both healthcare suppliers and providers to help drive increased vendor credentialing compliance. Delivering access to the credentialing solution via mobile app helps to streamline compliance for both providers and suppliers. The new GHX Vendormate Credentialing mobile app is available now through the Apple App Store and Google Play for Android devices.
In the U.S. alone there are 244,000+ medical sales representatives in the field; more than 65 percent use tablets. These reps serve 5,564 U.S. health systems that require vendor credentialing in accordance with federal, state and internal regulations. Historically, providers and suppliers could only access credentialing solutions via a desktop or laptop. The limited, location-based access created roadblocks for both suppliers and providers. With mobile functionality, reps spend less time completing the credentialing process, while providers can more easily improve patient and employee safety by tracking who is in their facility.
With more than 4,000 healthcare facilities and almost 70,000 provider users in the GHX credentialing network, the demand for accessibility on-the-go has driven the creation of a mobile app for not just the suppliers, but the providers invested in patient safety through compliance.
Vendor credentialing gives provider organizations the ability to restrict access to only those suppliers and representatives who have met their requirements (e.g., sanctions free, policy acknowledgements, immunizations, etc.). But the traditional approach where providers and suppliers can only access the credentialing solution via a desktop or laptop creates roadblocks. The use of mobile functionality lets providers and suppliers quickly access the information needed throughout the work day. Ease of use increases compliance by requiring less time for reps to complete the credentialing process.  
"The addition of mobile capabilities makes it significantly easier for healthcare providers and suppliers to do their jobs in an industry increasingly dependent on iPads and other smart mobile devices," said Amy Leiter, vice president, Vendor Solutions, GHX said in a statement. "By helping to increase regulatory and policy compliance, this new mobile functionality can help suppliers save time and remove roadblocks to sales, while helping providers to improve patient and employee safety by tracking who is in their facility. As an organization, we aim to provide customers with more ease of use through mobile experiences."