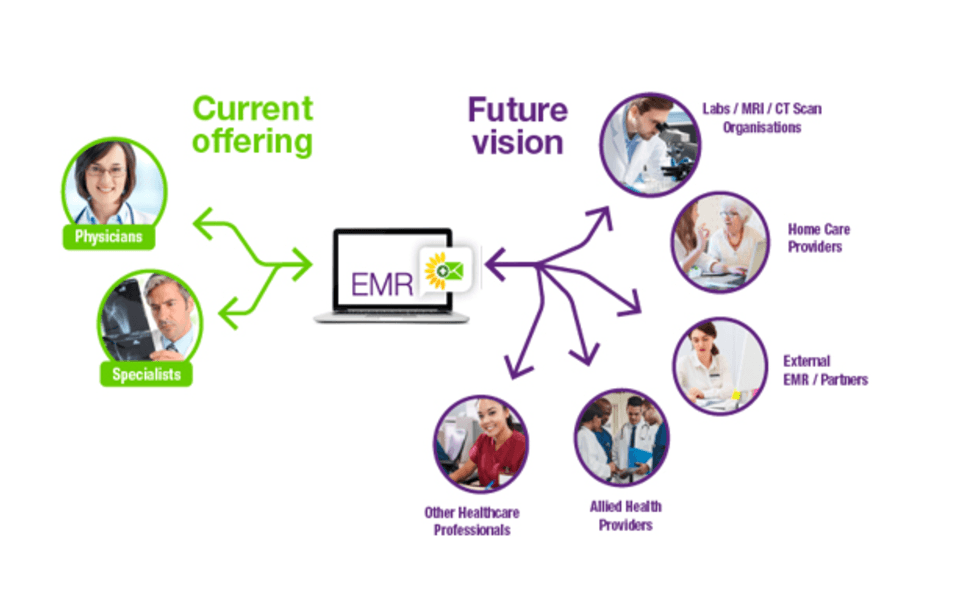 This week, TELUS Health announced the launch of MedDialog, a new national clinical solution that delivers doctor-to-doctor communication through electronic medical records (EMRs) for enhanced patient care across Canada. By eliminating the need for phone and fax communications, the solution technology will enable more efficient clinical practice and ensures that all communication history, such as referrals, specialist consultations, laboratory testing results and other patient information, remains within the digital chart.
MedDialog will be launched in the Ottawa region; digitally connecting more than 560 physicians using TELUS Health's PS Suite and Med Access EMRs. The solution will be added to other TELUS Health EMRs across the country through the end of 2018 to create a national messaging solution. The solution will evolve to connect all 20,000 physicians using TELUS EMRs and be integrated with other software vendors to enable communication with physicians using other EMR platforms.
A recent Health Canada survey of healthcare facilities revealed that nearly 25 per cent of issues impacting patient safety or healthcare errors were related to communication and documentation errors. In a recent TELUS Health survey of EMR users, physicians reported that phone (65 per cent) and fax (85 per cent) were the top two most commonly used communication methods used by physicians within their practice.
MedDialog enables physicians to have conversations with one another, relating to the care of a patient, in a more efficient manner. These digital exchanges allow for a seamless flow of communication by eliminating the need for a physician to switch from updating a patient's chart to making a phone call, sending an email through a separate system, or printing hard copy letters to be sent using a fax machine. This not only saves the physician valuable time which could be spent with patients, but also has the potential to eliminate fatal medical errors.
"MedDialog is built on the capabilities of the TELUS Health Exchange platform, an open and vendor-agnostic solution that fosters collaboration and more efficient and effective healthcare for the benefit of patients," said Michael Guerriere, Chief Medical Officer, TELUS Health in a statement. "The launch of MedDialog advances our vision that to improve patient outcomes we must harness the power of technology to enable a fully connected health ecosystem."