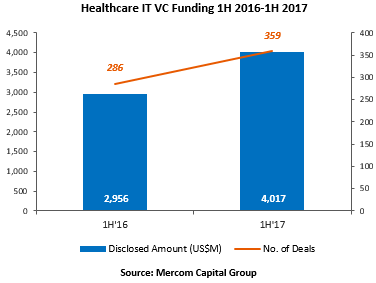 Health IT VC funding reached a total record of $4B in the first half of 2017, representing a 36 percent higher year-over-year, according to a new report from Mercom Capital Group.  The latest report finds that there were a total of 90 Healthcare IT M&A transactions, compared to 110 in 1H 2016. M&A activity in the second quarter of 2017 was down with 41 M&A transactions (five disclosed) compared to the 49 M&A transactions (seven disclosed) in Q1 2017.
Mercom's comprehensive report covers healthcare IT and digital health deals of all sizes across the globe, which finds that 2017 is shaping up to be a blockbuster year globally for Healthcare IT / Digital Health funding thanks to record numbers in both the first half and second quarter of the year. Uncertainty may surround the future of the Affordable Care Act in the United States, but investors remained bullish on healthcare IT companies in the U.S. with a record quarter for Healthcare IT / Digital Health funding.
Key healthcare IT VC funding highlights in H1 2017 include: 
– Total corporate funding in Health IT companies – including VC, debt, and public market financing – came to $2.4 billion in Q2 2017 compared to $1.8B in Q1 2017
– Q2 2017 VC funding also was at it's highest ever, increasing 47 percent to $2.4B in 194 deals compared to the $1.6B raised in 165 deals in Q1 2017. Q2 2017 had the second most deals recorded (194) in a quarter since 2010. In Q3 2014, there were 212 deals
– Healthcare practice-centric companies received 31 percent of the funding in Q2 2017, raising $745M in 63 deals compared to $574M in 50 deals in Q1 2017
– Consumer-centric companies accounted for 69 percent of the funding this quarter, raising $1.6B in 131 deals compared to $1B in 115 deals in Q1 2017
The top funded areas in 1H 2017 were:
1. Patient Engagement Solutions $684M
2. Data Analytics $458M
3. mHealth Apps $399M
4. Booking $391M
5. Telemedicine $297M
6. Mobile Wireless $275M
7. Electronic Medical Records (EMR) $237M
– Top funded categories in Q2 2017 were: Patient Engagement ($669M), mHealth Apps ($325M), Data Analytics ($264M), and EMRs ($236M).
The Top VC deals in Q2 2017 included:
1. Outcome Health ($500M)  
2. Modernizing Medicine ($231M)
3. PatientPoint ($140M)
4. Blink Health ($90M)
5. WuXi Nextcode ($75M)
6. ClassPass ($75M)
– Practice Management Solutions and Data Analytics companies were involved in the most M&A transactions in Q2 2017 with five each, followed by Medical Imaging companies with three transactions.
– Prominent M&A transactions in Q2 2017 included: the acquisition of Best Doctors for $440M by Teladoc, Cochlear's acquisition of Sycle for $78M, athenahealth's acquisition of Praxify Technologies for $63M, and the acquisition of Entrada by NextGen Healthcare (a subsidiary of Quality Systems) for $34M