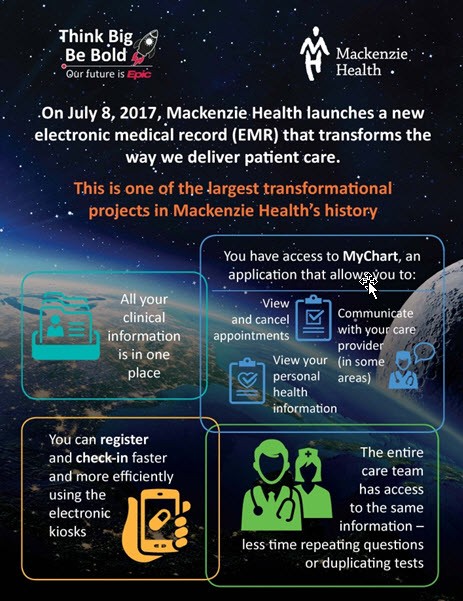 Mackenzie Health, a Canadian-based regional healthcare provider has announced the go-live of Epic across its enterprise, becoming the first full-suite Epic EMR to be implemented in a Canadian hospital.
The new EMR implementation was a two-year process that involved significant software build, consultation with Mackenzie Health staff and physicians, testing and education. Two weeks prior to the launch, over 100 Mackenzie Health staff transitioned over 15,000 scheduled appointments, including for  X-Rays, MRIs and other medical imaging tests, dialysis and cardio-vascular rehabilitation, into the new Epic EMR. 
Over 1,500 scheduled surgeries and ambulatory procedures were also converted from the legacy system to the new Epic EMR. More than 50 trained secretaries from physicians' offices spent over four days to converting the appointments. With this transition, physician offices can now manage their provincial wait times and their procedure schedules in one place.
To ensure staff, physicians and volunteers are well supported during the transition, a technical Command Centre staffed by approximately 90 staff members and an Operations Support Centre that oversaw clinical operations and coordinated the 265 additional support staff deployed across the organization, all working 24/7, have been instrumental for the go-live.
For patients, the new EMR brings a number of benefits, including a faster and more efficient registration process. Similar to the airport check-in process, patients who have scheduled appointments at Mackenzie Richmond Hill Hospital can now swipe their health card on a Self-Serve Registration Kiosk, follow the simple instructions on screen, get an armband from a Patient Assistance representative and proceed to their appointment.
"As Epic's first enterprise community member in Canada, Mackenzie Health continues their commitment to delivering high quality, compassionate and timely care with this milestone. Through these new tools and resources, Mackenzie Health can now expand their ability to provide patient-centered and community-based medicine for York Region and beyond. We look forward to a long and successful relationship as we work toward our shared goal of helping people get well, helping people stay well, and helping future generations be healthier," said Judy Faulkner, CEO of Epic in a statement.