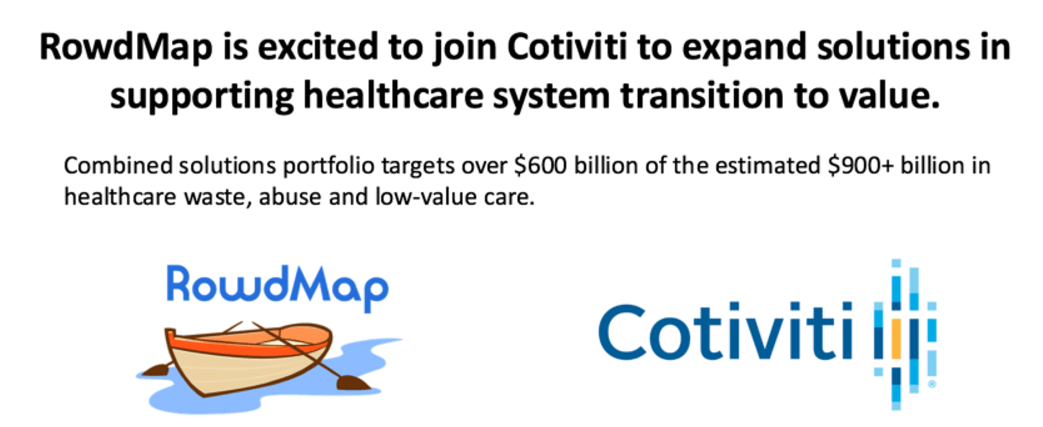 Cotiviti, a provider of healthcare analytics-driven payment accuracy solutions has acquired RowdMap, a Louisville, KY-based payer-provider, value-based analytics company for $70 million in cash. Cotiviti also intends to issue an aggregate of approximately 800,000 shares of restricted Common Stock to certain employees of RowdMap as a material inducement to their employment with Cotiviti. The acquisition is expected to close by the end of July 2017. The acquisition broadens Cotiviti's data analytics capabilities and provides adjacent solutions to address the overall healthcare market shift from volume to value.
Founded in 2011, RowdMap helps health plans and providers identify and reduce low-value care from inefficient and unnecessary services. Their Risk-Readiness Platform develops benchmarks for nearly every physician, hospital and zip code in the United States by applying a proprietary analysis against data sources including comprehensive CMS information, clinical policies, health guidelines and value-based analytics to evaluate provider performance across multiple dimensions.
Based on these benchmarks, RowdMap has developed a Risk-Readiness® Network Efficiency Score to measure the efficiency of a provider network. Payer clients can then use a series of analytic solutions to develop specific action plans to improve their Risk-Readiness Network Efficiency Score, which can drive quantifiable medical cost savings through higher performing provider networks, improved member adherence and value-based contracting strategies.
"The trend toward value-based care increases the complexity associated with payment and creates a greater need for Cotiviti's payment accuracy services," said Doug Williams, Cotiviti's Chief Executive Officer. "With the addition of RowdMap, we will be able to offer adjacent solutions to payment accuracy that together target over $600 billion of the estimated $900+ billion in waste and abuse in healthcare expenditures. Cotiviti can now offer our health plan clients an even more comprehensive portfolio of solutions to address medical and payment policies, provider network and contract management, and value-based care and reimbursement models. Together, we will be able to provide differentiated value to our clients through enhanced capabilities and expanded solutions."