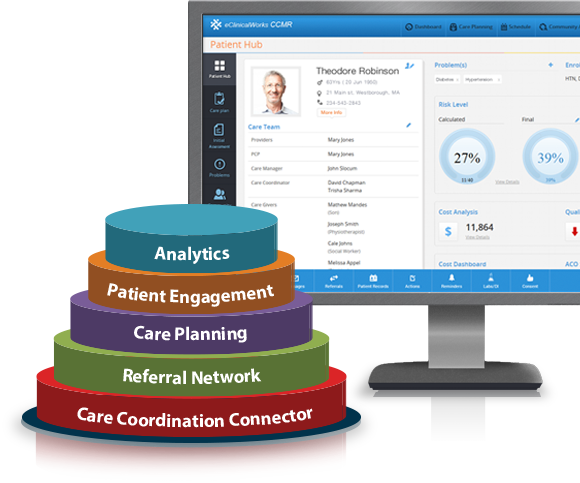 Central Florida ACO, NEXT ACO of Nature Coast, and Space Coast ACO has selected eClinicalWorks Population Health Management for their combined 90 providers and more than 17,000 beneficiaries. The implementation will assist all three organizations in closing the gaps in the coordination of care, manage cost and utilization, and improve clinical quality outcomes.
The eClinicalWorks Population Health Management solution provides the organizations with visibility into a patient's care across all settings, facilitates smooth transitions of care, engages patients and providers in preventative care, improves outcomes among populations, and reduces costs. A vendor-neutral, open network securely connects ambulatory EHRs with hospital in-patient systems and payer claim feeds, including CMS, to provide cost and utilization metrics for services delivered to patients. The Patient Relationship Management (PRM) tool allows ACOs to send appointment reminders and preventative care measures using predefined or customized campaigns.
eClinicalWorks Population Health Management Analytics uses closed-loop analytics to deliver reporting, alerting, and messaging capabilities necessary to manage population health effectively. For the organizations, dashboards are shown at the community level to determine and monitor adherence to clinical process and outcomes, including medication recalls and chronic disease management. Care coordination and analytics work together to form a collaborative care framework that supports the new value-based care models. Interoperability between organizations is available as eClinicalWorks also supports the seamless exchange of data with the CommonWell Health Alliance and the Carequality Interoperability Framework.
"Healthcare organizations have a significant opportunity to capitalize on outcomes with the advent of innovative advances in technology," stated Girish Navani, CEO and co-founder of eClinicalWorks. "eClinicalWorks assists Space Coast ACO, NEXT ACO of Nature Coast, and Central Florida ACO by providing a comprehensive approach to patient care, helping providers gain a deeper insight and understanding of the patient population."