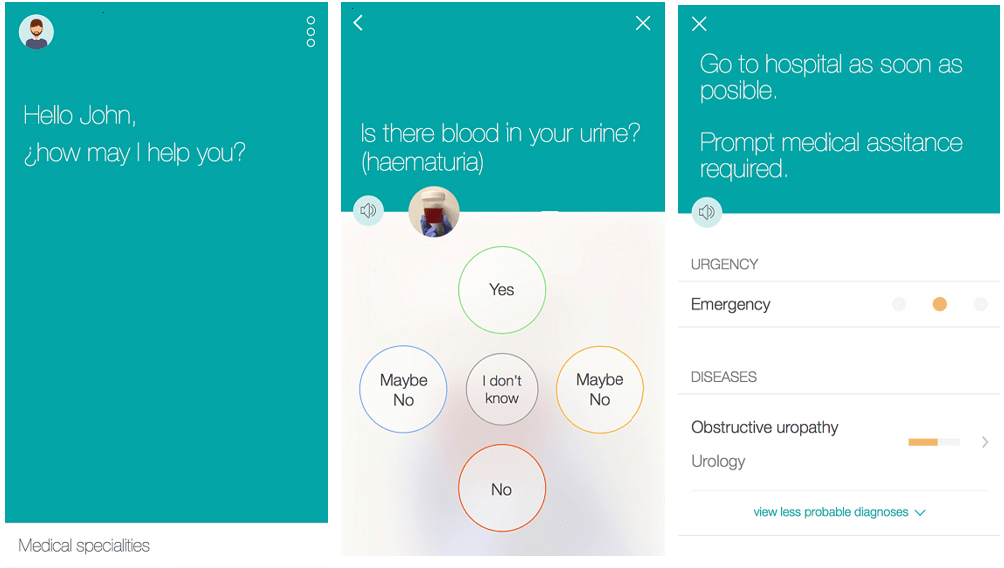 Digital health startup Meditkor, which initially launched in Europe at the Health 2.0 conference in Barcelona in May, today announced the launch the U.S. availability of the first scientifically validated health checker based on artificial intelligence (AI). Mediktor is the first pre-diagnosis tool that uses AI to identify a patient's symptoms in real-time and suggests next steps based on medical needs including recommendations for a specialist or doctor.
Mediktor combines artificial intelligence, natural language recognition technologies and patient data to detect symptoms and offer a listing of possible conditions, recommendations and even connecting with medical professionals within a health insurance network. The platform learns from every interaction, developing an advanced intuition. Mediktor has performed 1.5 million symptom evaluations in 201 countries globally and for the first time will be available to health insurance companies in the U.S. The platform, which has undergone a clinical study with 1,015 patients achieving a success rate of 91.3%, is being marketed to US based health insurance companies to better manage and improve accessibility to their membership base.
Mediktor will be offered to health insurance companies as a benefit to their members. Health insurance companies that offer Mediktor as an easy-to-use tool for customers, streamline the decision making for both health professionals and patients as well as increase efficiency and information management. The company is part of New York based StartupHealth, the world's largest portfolio of digital health companies backed by major investors & partners including Mark Cuban and Steve Case.
"The new pre-diagnosis tools are transforming the way in which people access the healthcare system, bringing huge benefits for insurance companies and ultimately the consumer through their membership. We are proud to bring to the market the first scientifically validated symptom-checker based on artificial intelligence," said Cristian Pascual, Co-founder of Mediktor in a statement.