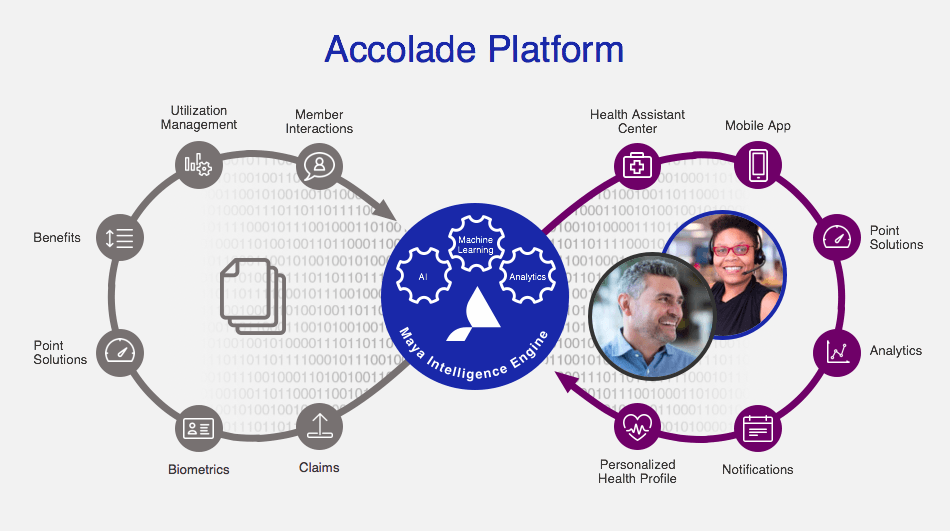 Accolade, an on-demand healthcare concierge for employers, health plans and health systems has unveiled their new Maya Intelligence Engine to provide highly personalized healthcare support for individuals and their families. In addition, Accolade is introducing a new mobile experience with Accolade Mobile app that enables live messaging with dedicated health assistants and nurses on any health- or benefits-related question or concern.
Accolade CEO Raj Singh and Chief Product Officer Mike Hilton spearhead Accolade's technology. Prior to joining the company, they were co-founders at Concur, which they left following it's $8.3B acquisition by SAP, and turned their sights on healthcare. The Accolade solution integrates the broadest set of personal health data and information – benefit plans, medical and Rx claims, biometrics results, risk scoring, demographics, integrated point solutions, and interactions between members and Accolade Health Assistants and Nurses. With this data, the Maya Intelligence Engine performs sophisticated targeting of populations down to the individual level, presenting highly personalized recommendations to Health Assistants and Nurses as they engage with each member, and directly to members as they interact with Accolade through the web or mobile app.
Maya's intelligence becomes more relevant, efficient and effective with every interaction between Accolade Health Assistants and Nurses and the individuals and families they support. The impact of Maya and the Accolade platform are seen in the 70% engagement levels across its employer populations, member satisfaction ratings of 98%, and employer cost savings of up to 5% in the first year and 15% by year five.
Accolade Mobile Experience
With Accolade Mobile, members can ask quick questions, engage in ongoing messages or escalate to phone calls with Health Assistants and Nurses. Accolade members are messaging about benefits questions, sending photos of their bills for review and clarification, getting support for health concerns and finding the right doctors, preparing for doctor visits with suggested questions from Accolade Nurses, and getting compassionate and trusted support to stay on track with provider care plans. 
In just 30 days, Accolade Mobile holds a five-star rating in the iTunes app store, and is achieving higher than 50% engagement with registered members. Accolade Mobile is a part of the Accolade solution, available to members on iOS and Android phones.
"There is tremendous expectation in the industry for AI to solve some of the big challenges in healthcare, but it doesn't work on its own," said Mike Hilton, chief product officer at Accolade in a statement. "To truly impact people's health and the broken cost structure in healthcare, we need to apply AI to a far more personal and complete set of health data, and we need a way to deliver personalized and relevant healthcare recommendations to individuals. The combination of these factors has been missing in healthcare, but it exists with Accolade."