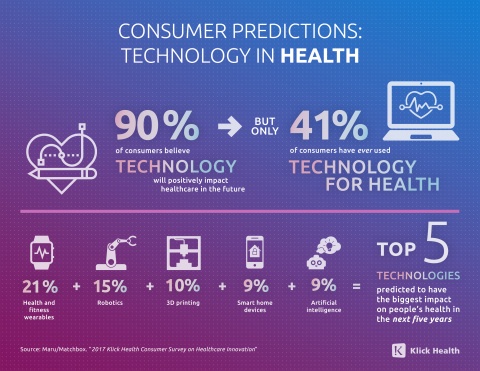 Ninety one percent of consumers believe that innovation will positively impact healthcare over the next five years, with a large portion saying that the patient-physician experience will benefit the most from innovation, according to a recent Klick Health survey of 1,012 adults, conducted by Maru/Matchbox.  Specifically, almost half of respondents said innovation will help physicians better treat and diagnose patients, with another 20% saying that it will help patients and their loved ones better manage and care for their health, and 19% saying that it will help prevent disease. 
The study findings also point to a gap between consumers' belief of how technology will impact their future health and their usage of healthcare technology. Ninety percent of people say that technology will have a positive impact on their health in the future. Specifically, 70% believe that technology will have the biggest impact in helping them personally manage their own health.
However, only half of respondents indicate that technology has had a positive impact of their personal health and/or wellness. Furthermore, only 41% claim to have ever personally used innovative technology to help manage their health.
Overall, the findings point to a disconnect between the large percentage of consumers who feel that technology will help healthcare in the future, and the much lower percentage of consumers who have ever had a positive experience with technologies managing health in the past. This demonstrates that there are significant growth opportunities for innovative technologies aimed at helping patients and consumers manage their health.
Neuropsychologist Rex Jung of the University of New Mexico said, "This survey highlights consumers' adoption of technology as a main healthcare interface. The findings really reflect a shift in the consumer mindset from being passive recipients of healthcare to more active and autonomous individuals who appear eager to try more creative and innovative approaches to managing their health."
Other key data points
– Consumer electronics (28%), telecommunications (13%), and media & entertainment (10%) ranked highest for industries that are perceived to be the most innovative. Pharmaceuticals & biotech (9%), health & wellness (5%), and hospitals (3%) ranked significantly lower.
– In terms of sectors that people felt should be the most innovative, health & wellness ranked at the top of the list (17%) and pharmaceuticals & biotech (14%) and hospitals (9%) follow close behind in the top 5.
Top five technologies predicted to have biggest impact on people's health in next five years:
1. Health and fitness wearables (21%)
2. Robotics (15%)
3. 3D printing (10%)
4. Smart home devices (9%)
5. Artificial intelligence (9%)