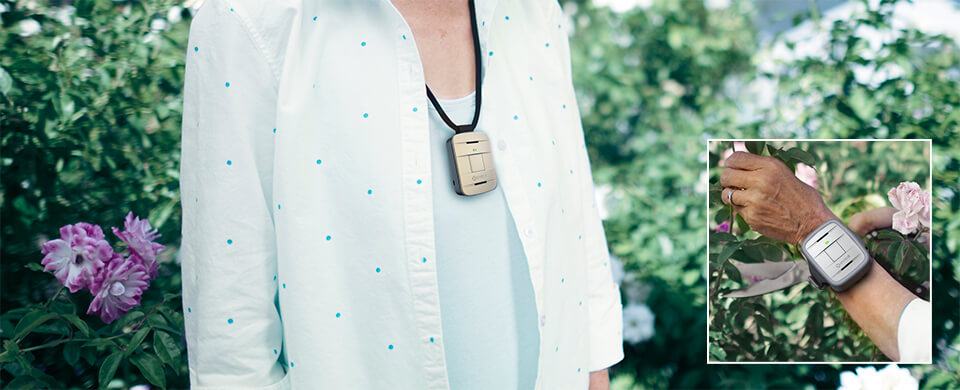 If you or someone you care about is elderly, disabled, or suffering from a chronic medical condition, you understanding living with the fear that help will be needed, but out of reach. For about 40 years or so, medical alert devices have sought to alleviate that fear, by making sure that the elderly, disabled, and chronically ill have access to help even when they can't reach a phone.
At first, these devices consisted of pendants that allowed the wearer to call an operator through a base station connected to a telephone line. Recent advances in technology mean that, today, there are many more options. These days, those in the market for a medical alert device can choose from traditional pendants that allow the wearer to call for help over a landline or cellular phone network, movement sensors and fall detectors, fitness trackers, and in-home wellness monitors, among other options. With so many types of alert system to choose from, it's important to know what you need from a system, what you should expect from a monitoring service, and what you can expect to pay.
Know What You Need in a Medical Alert System
Today's medical alert systems offer a range of features, so consider which ones will be most appropriate for your or their needs, not only now, but in the future. Will you or your loved one need to be able to call for help, perhaps without speaking to an operator? Is fall detection important for you? Could you or your loved one wander off and get lost, or run into trouble while out performing errands? If so, GPS monitoring may be in order.
Other features that might be useful for your situation include medical monitoring to track vital signs and impart medical reminders. Motion sensors or activity monitors could alert help if a loved one ceases to move normally about the home. Fitness trackers could help loved ones stay healthy and stay in touch with family members. Check-in services ensure that someone looks in on you or your loved one daily, either virtually or in person. Home security monitoring can help protect against intruders, as well as carbon monoxide, fire, and other dangers. Remember, the monitoring service should respond to any calls for help or signs of trouble within less than a minute.
Consider Your Equipment Needs
Just as medical alert devices now offer a range of features, they also now provide many different types of equipment to help those in need. Wearable devices that connect to a base station or to a cellphone network are available, many with GPS functionality that allows the operator to send help even when the wearer is far from home. If you choose a more traditional device that connects to a base station, make sure that base station has a range of at least 400 feet, so that you or your loved one can call the monitoring service no matter where you or they are on the property, whether inside, outside, at the mailbox, or in the garage.
Any base stations or consoles that come with your system should be easy to set up and operate, with no-fuss technological updates. Battery back-ups are necessary for components that plug in, and battery life and availability of batteries should be considered for mobile electronic components. Research the device's durability and resistance to water. Consider, too, back-up plans in case your loved one loses consciousness or has an accident when he or she isn't wearing the device. Many monitoring services will place call buttons near the floor in high-risk fall areas, and provide lock boxes so that emergency personnel can access the house to provide care to an incapacitated occupant.
Pay a Fair Price
A quality medical alert system should cost $25 to $45 a month, and most reputable companies won't require a contract, because they understand that you may need to temporarily or permanently suspend the service at any time. Some companies charge an initial fee for the lease or purchase of the equipment, especially when mobile alert devices are involved. Look for a company with straightforward pricing and no hidden fees. Consider companies that offer a money-back guarantee during a trial period, in case you aren't happy with the first (or second, or third) system you choose.
Medical alert devices are more sophisticated than ever, and that means more people can continue to live independently. When it comes time to purchase a medical alert system for yourself or a family member, it's vital to shop around. Take the time to find a system that meets yours or your loved one's needs. It could be a matter of life or death.
Image credit: Great Call Medical Alert