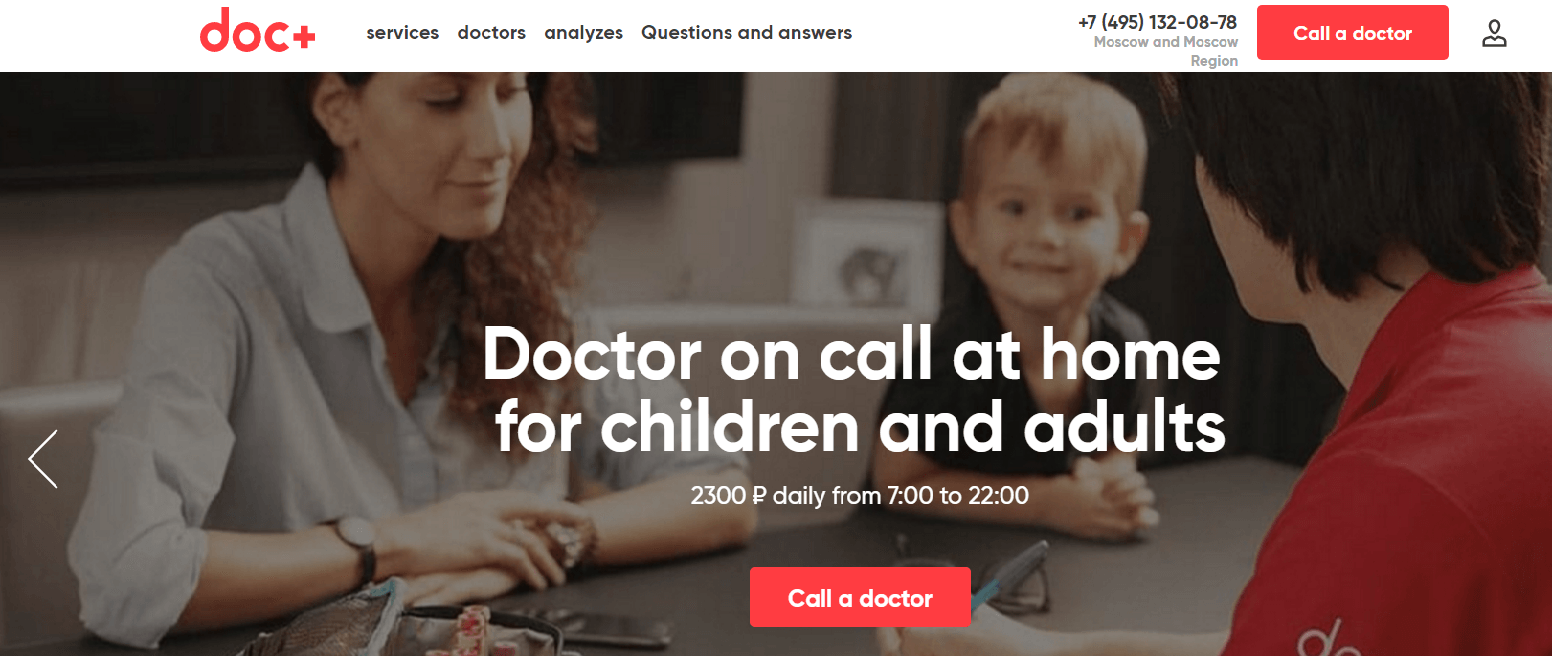 DOC+, a Russian digital health startup has raised $5 million in funding from existing investors – Yandex Internet Company and Baring Vostok venture fund. The new capital will be used to develop advanced digital health services, as well as to expand the core business of on-demand visits and telemedicine consultations. The latest round makes it the largest funded digital health company in Russia.
Founded in 2015, DOC+ provides on-demand doctor services in Moscow and Saint Petersburg, with another Russian city to follow in 2018. Users can book a visit via the call center, the mobile app, or the website. The closest doctor available picks up the order and visits a patient at home. The services include: consultations, prescriptions, sick notes, medical tests, ECG, referrals to MRI, and other advanced diagnostics. DOC+ also offers personalized services like digital health records and personal doctor subscriptions.
DOC+ does not simply connect doctors and patients. It is a fully functioning clinic with applicable medical licenses and staff. The company works with 300 highly qualified therapists (GPs), pediatricians, otolaryngologists, neurologists and nurses, and features a quality rate of 4.9 out of 5. Prices vary from 1200 to 3000 roubles ($21 – $53) per visit.
Additionally, DOC+ offers telemedicine consultations via chat, audio- or video calls for Russian-speaking users. With the new telemedicine legislation approved by the Russian government and awaiting the Parliament's review, DOC+ aims to expand the range of services. DOC+ telehealth services are priced at 100 roubles ($1.80) for the first and 499 roubles ($8.80) for a follow-up doctor-patient chat. Although still in a test phase, dozens of consultations are provided daily; the number is expected to grow to hundreds by the end of 2017.
The company's revenue in 2016 reached 70M roubles ($1.2MUSD). Since the launch, DOC+ app was installed over 70K times, and the company's doctors made over 60K visits. DOC+ previously raised seed funding from business angels and $5.5M in Series A funding from Yandex and Baring Vostok. Earlier this week, Russia's Yandex announced "Yandex.Health" – a telemed service providing medical consultations online where DOC+ is an exclusive partner.
"Getting a doctor's home visit from a commercial clinic in Russia is expensive, often takes long time and is not available outside big cities. And digital health infrastructure almost does not exist. We decided to change this. – says Ruslan Zaydullin, DOC+ cofounder and CEO in a statement. "Although we started with the basic on-demand doctor house calls, we soon realized that we need to build the entire IT infrastructure to provide all medical services that could be delivered at home or remotely. Our investors share our vision of building Russian leading e-clinic and we hugely appreciate their support."