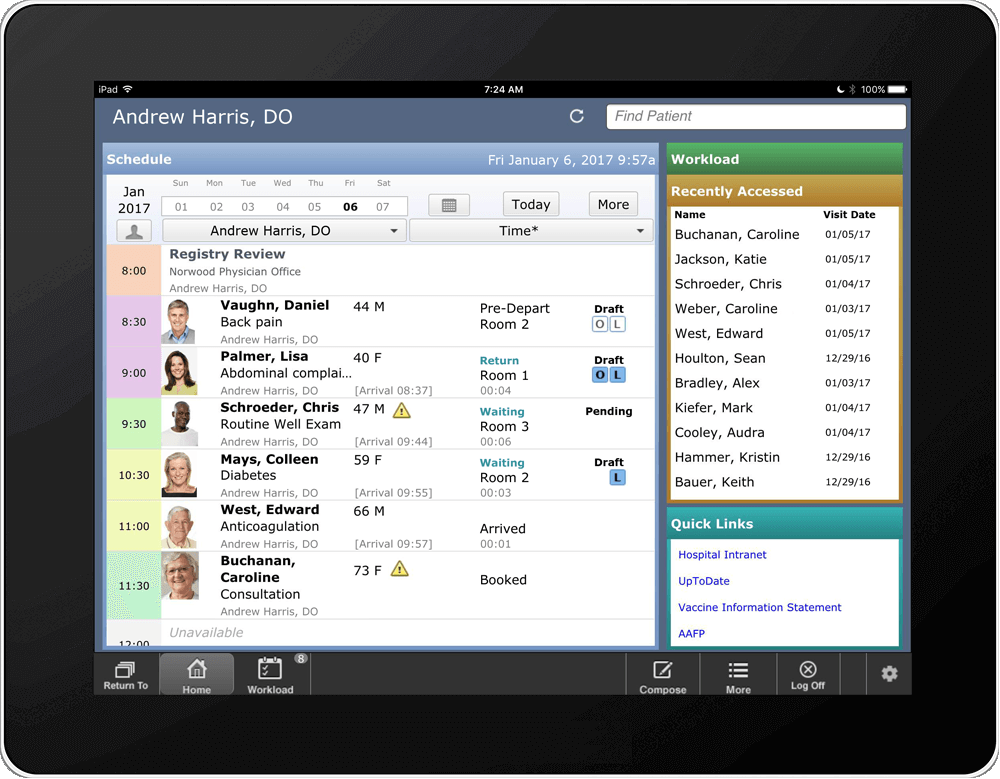 EHR provider MEDITECH has recently signed five new organizations, representing 16 new hospitals to implement its clinically-integrated Web EHR system. MEDITECH's Web Ambulatory is a complete web chart that gives physicians instant access to all patient records and relevant information across the continuum, in one place. Since the launch of the ambulatory Web EHR, over 130 healthcare organizations have signed for MEDITECH's latest release.
MEDITECH's Web EHR can improve physician productivity. MEDITECH's EHR will increase clinical efficiency, whether in the hospital, the ED, or the doctor's office–so clinicians can always stay focused on the patient, not the technology.
Other key features of the MEDITECH's Web EHR include:
– Ambulatory Registry tool to identify at-risk patients, and access their charts to document or place orders
– Office Manager provides a broad view of schedules across care settings you want, or a snapshot of the administrative to-do's for the day
– Scheduling Grid makes life easy for schedulers and front desk staff—whether scheduling across the enterprise or the continuum of care
"MEDITECH has 47 years of experience in the healthcare industry, and we're deeply passionate and committed to delivering solutions that give physicians the tools they need to deliver the highest quality of care to their patients," Helen Waters, Executive Vice President of Sales and Marketing said in a statement. "We have channeled our experience, passion, and knowledge into building the next-generation EHR. The architecture, user interface, and depth of clinical sophistication have been taken to entirely new levels, and we are witnessing the excitement across the market."
MEDITECH'S new web EHR clients include:
– Appalachian Regional Healthcare (ARH) (Lexington, Ky.)
After launching a complete evaluation of EHR solutions, ARH announced they will begin a partnership with MEDITECH. The large, not-for-profit, integrated delivery network that includes 11 hospitals, will begin their shift to MEDITECH's transformative, mobile Web EHR later this year.
– Southlake Regional Health Centre and Stevenson Memorial Hospital (Ontario, Canada)
As members of the Shared Health Information Network Exchange (SHINE) initiative, Southlake Regional Health Centre and Stevenson Memorial Hospital announced a new partnership with Markham Stouffville Hospital (MSH) to integrate their Health Information System (HIS) and accelerate the adoption of MEDITECH's 6.1 Web EHR across all three organizations.
– Howard County Medical Center (HCMC) (St. Paul, Neb.)
The Critical Access Hospital will be upgrading to MEDITECH's Web EHR. A MEDITECH customer since 2011, physicians at HCMC were impressed with the new platform's ease of use and integration.