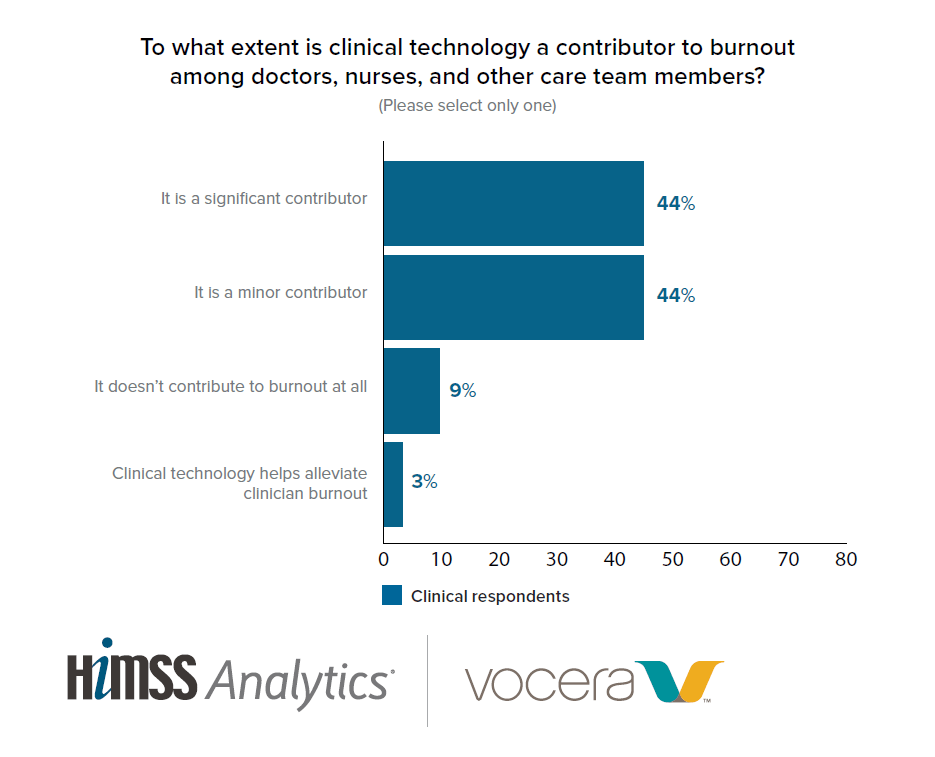 88% of clinical leaders believe clinical IT solutions contribute to burnout, and 76 percent cite improved collaboration with IT as the solution, according to a recent survey. On the IT side, 64 percent contributed burnout to a lack of resources and budget constraints. The recent survey of 124 clinical and IT leaders at hospitals and healthcare organizations in a study by Vocera Communications and HIMSS Analytics, reveals 91 percent of IT leaders say that they and their teams are somewhat to extremely burnt out by the demands of supporting clinical IT selection.
Overall, two primary themes emerged from the study:
1. The most important value a clinical IT solution can deliver is to help to safeguard against clinical errors and ensure patient safety.
2. Fostering greater collaboration between clinical and IT teams to ensure technology improves workflow is the way to make technology a greater part of the solution to clinician burnout.
Both clinical and IT leaders agreed on the above. In fact, the report reveals clinical and IT leaders are on the same page most of the time.
Some specific highlights of the HIMSS Analytics report include:
– More than half (52 percent) of all respondents agree looking filling gaps to create a better experience for patients and clinicians is the number one motivator for technology adoption.
– More than half of BOTH clinical and IT leaders believe mutual collaboration is required for all technology adoption decisions.
– Most respondents agree: Clinical success is the primary measure of the value of a clinical IT solution.
Strengthen Collaboration for Better Safety and Quality
IT and clinical leaders have laid strong foundations for a collaborative approach, but they have an opportunity to go further in many areas, for example by encouraging more direct engagement between IT and frontline caregivers.
The results show that while burnout is a more significant issue for clinical leaders, their IT colleagues are not immune. Greater collaboration between the two groups when selecting and implementing clinical IT systems can play a key role in relieving the burden.
By aligning clinical expertise around patient care and safety with IT's expertise in applying the latest tools and resources, it should be possible to create innovative solutions that satisfy the needs and ambitions of both groups while ensuring technology improves workflows, increases efficiencies, and boosts satisfaction for staff and patients.
Download the report: "Research Findings: Strong Collaboration Between Clinical and IT Leaders Supports Better Safety and Quality"