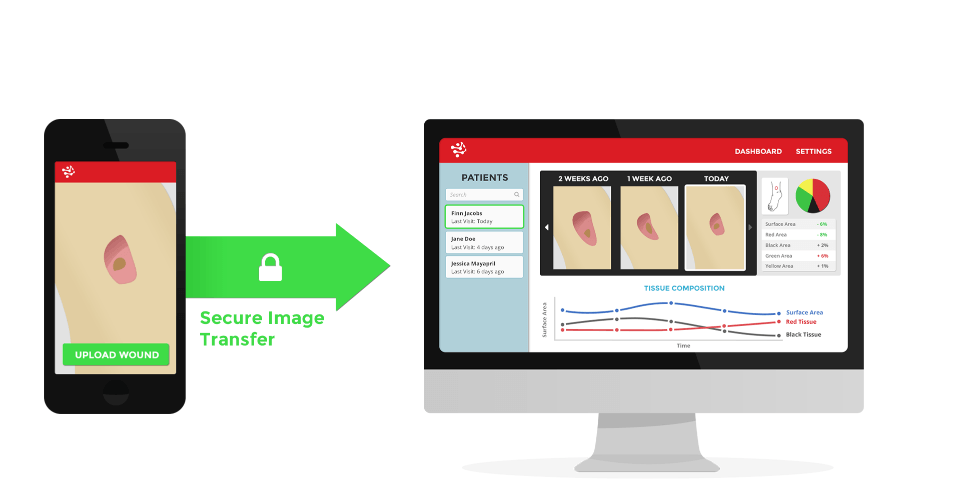 Intermountain Healthcare, one of the largest not-for-profit healthcare systems in US, announced that it will implement Tissue Analytics' advanced imaging technology, integrated with its Cerner's EHR system, across all of its hospitals, wound clinics, and home care group. The Tissue Analytics technology will be integrated into 22 hospitals, eight outpatient wound clinics, and the entire Intermountain Home Care group.
Today, wound healing is measured manually with a ruler — which introduces a 45% error rate in wound measurements. Founded in 2014 by Kevin Keenahan, Joshua Budman, and Dr. Gabriel Brat of John Hopkins University, Tissue Analytics develops advanced imaging algorithms designed to help clinicians measure and track wound healing. The new technology allows Intermountain to photograph wounds and automatically derive the rate at which the wound is healing. 
Intermountain Healthcare's decision to integrate Tissue Analytics into its Cerner solution came after a successful proof of concept and pilot program. The initial proof of concept was conducted at Intermountain's Dixie Wound and Hyperbaric Clinic. Success there led to a 16-week, larger scale pilot that involved all of Intermountain's wound care clinics and its home care group.
The pilot involved 89 clinicians and more than 200 patients. Forty-three of those patients were seen at both the clinics and home care. These efforts culminated in a SMART® on FHIR®-based integration with Cerner core technology. With Tissue Analytics, Intermountain Healthcare, now has the ability to share accurate data about a patient's wound between the inpatient, clinic, and homecare settings.
"The proof of concept and pilot collaboration helped us work with Cerner and Tissue Analytics to shape the product and integration in a way that clinicians would find productive and effective," said Todd Dunn, Innovation Director at Intermountain. "The collaboration highlighted the ability of large health systems to work, through innovation groups, at the cutting edge of healthcare. The integration with Cerner will help Tissue Analytics complement our existing workflows, improve accuracy, and provide new analytics for wound care."