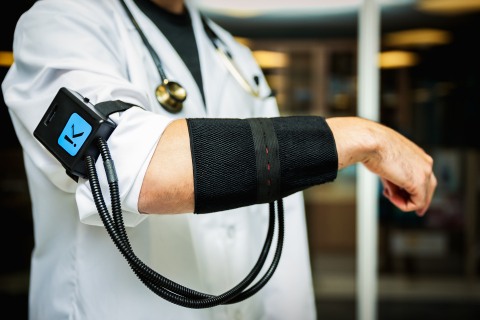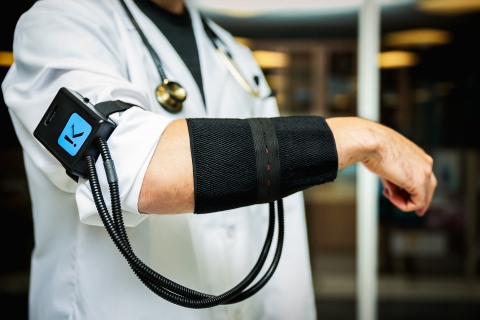 On Monday, digital healthcare innovation lab Klick Labs unveiled a digital health device that that wirelessly records and transmits patient tremors in real time. The proof of concept device named SymPulseTM Tele-Empathy Device was designed to help foster clinical empathy and better care for the more than 40 million people living with movement disorders in the U.S. alone.
According to the Parkinson's Disease Foundation, of the 10 million people living with the disease around the world, about 60,000 Americans are diagnosed each year, not including thousands of cases that go undetected. In 2005, the Foundation estimated that more than 40 million Americans (nearly one in seven people) were affected by a movement disorder, including tremor, Parkinson's, Tourette's syndrome, dystonia, and spasticity.
How it Works
Klick Labs' SymPulseTM Tele-Empathy Device records continuous electromyogram data from the patient and wirelessly transmits it via Bluetooth to a custom-engineered electrical muscle stimulation armband for non-patients. The patent-pending, experiential device induces involuntary muscle activity, which mimics patient tremors in real time, and enables physicians and family members to experience the difficulties of seemingly simple tasks, such as buttoning a shirt or using a mobile phone.
As part of the device's debut, video footage was released of 43-year-old early onset Parkinson's patient Jim Smerdon wirelessly transmitting his tremors to his wife and identical twin brother Pat. "It's the first time I've ever seen my tremors in someone else," Smerdon said. "I want everyone to be able to feel that…Nurses and neurosurgeons could experience (my tremors)…I think it will be a real game changer for them."
Yan Fossat, VP of Klick Labs said future versions, which use the Internet for remote transmission of symptoms, could be used for telemedicine. "We envision patients being able to transmit their tremors to physicians anywhere in the world to get more accurate diagnoses and better treatment," he explained.
The implications of tele-empathy extend beyond the manipulation of muscle activity. Other types of disease and condition symptoms can be quantified and digitized using wearables with sensors that measure everything from the glucose level of someone's tears to air flow and blood oxygen saturation levels. As a result, Klick Labs is also exploring symptom transference for diabetes and chronic obstructive pulmonary disease (COPD).
With vast expertise creating Virtual Reality (VR) experiences for the healthcare industry, the company also believes VR can be used to create clinical empathy. "We can leverage VR to bypass proprioception and simulate a particular gait of a patient with diabetic neuropathy or multiple sclerosis and virtually put other people in that patient's shoes," Fossat added.