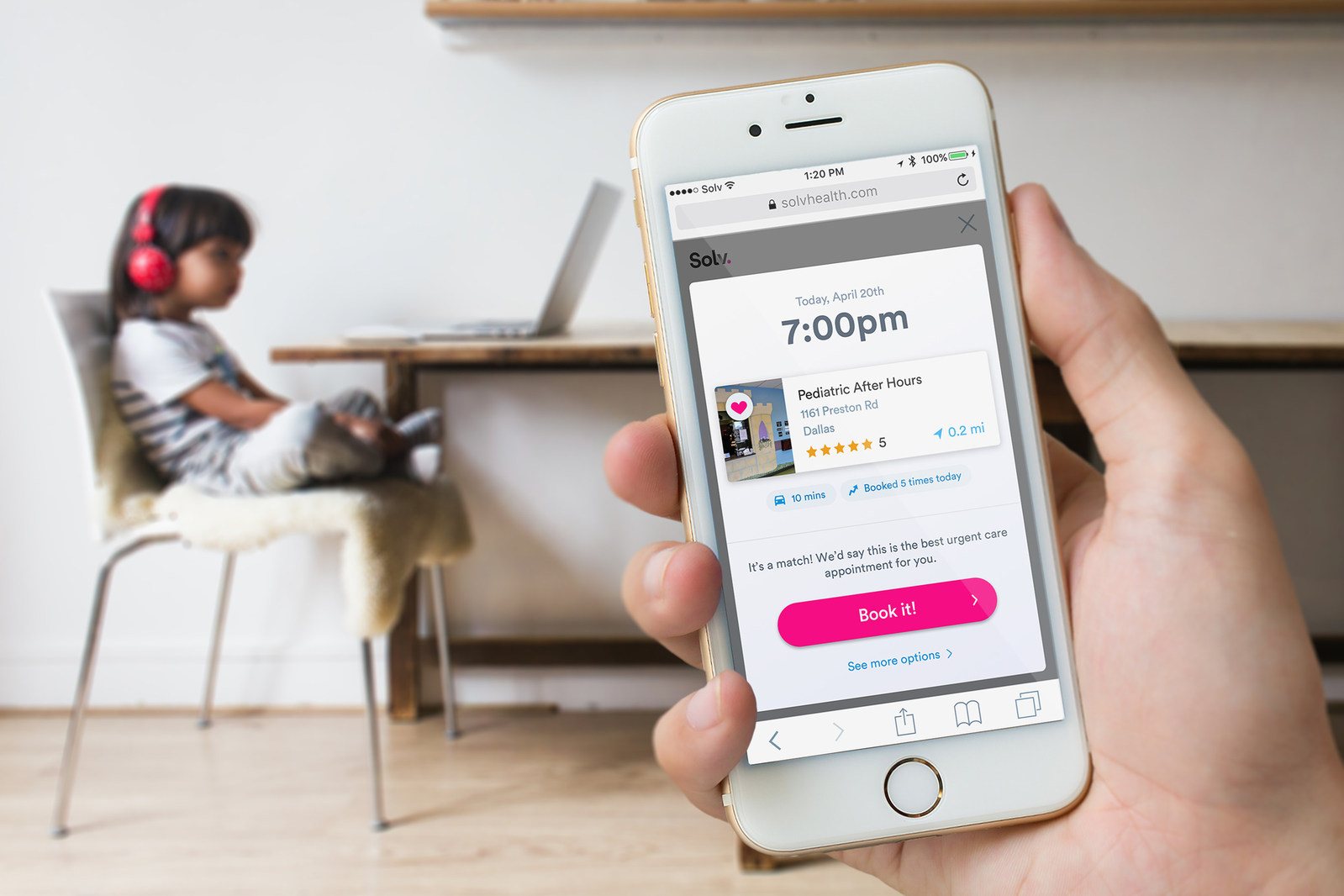 Solv, a San Francisco-based digital health startup has raised $6.25 million in Series A funding led by Benchmark Capital for its same-day urgent care booking app platform. The round included participation from Theresia Gouw of Aspect Ventures and Malay Gandhi of Ensemble Labs, formerly CEO of Rock Health. Solv plans to utilize the funding to open up its private beta to more patients and providers in Dallas Fort Worth, Texas, as well as expand to more cities and grow its team.
Since launching its private beta in late 2016 in Dallas Fort Worth, Texas, thousands of patients have already used the Solv technology platform. With just a few taps on their phone, patients can find urgent care providers based on location and symptoms, and choose an appointment time that best fits their needs. Over eighty percent of Solv users are in an exam room within two hours from booking, and a third of all bookings happen outside of business hours. By uploading a photo of an insurance card, Solv's technology can instantaneously read the card and confirm coverage. If paying out-of-pocket, Solv surfaces cash prices so there are no additional surprises once a patient arrives for a visit.
Solv's mobile-friendly product makes it easy for consumers to book same-day urgent care, saving them time and money. It provides transparency into the entire process from how long you'll wait to if your insurance is accepted, and even what out-of-pocket costs you can expect. For providers, Solv's scheduling software helps clinic owners improve the end-to-end patient experience, including managing reservations, streamlining operations, and reducing wait time.
It takes an average of 24 days for Americans to schedule a new doctor's appointment. This delay in care isn't just frustrating for consumers, but can also result in an unintended strain on our healthcare system. Because people often don't know where to go outside of a primary care physician, many avoid care or head to the emergency room (ER) for non-life threatening health issues like colds and sore throats, cuts and sprains, stomach aches, and rashes. In fact, of the 130 million visits to the ER last year, sixty-six percent, or nearly 86 million, were avoidable2.
Long wait times for appointments and the alternative of delayed care or expensive trips to the ER have triggered a shift in how consumers interact with the traditional healthcare delivery system—a change driven largely by millennials entering the workforce or becoming new parents. According to recent research, half of millennials have no relationship with a primary care physician and fifty-nine percent would prefer to visit an urgent care or retail clinic versus a primary care physician3. Much like using a smartphone to book a restaurant reservation or hail a rideshare, seventy-one percent would also use an app to manage their healthcare4.
"As an emergency room physician, I see firsthand how many people come to the ER who don't need to, primarily because they don't know where else to go after hours or on the weekends. Our group established CityDoc Urgent Care clinics because we wanted to deliver high-quality, affordable, and convenient care for our patients' everyday healthcare needs," said co-founder of CityDoc Urgent Care, Brenna Nance, M.D. "Solv's technology helps our practice with reservation tools that streamline our operations and reduce wait times. Its consumer product also provides the on-demand, mobile experience that patients want, while driving more business through our front door."