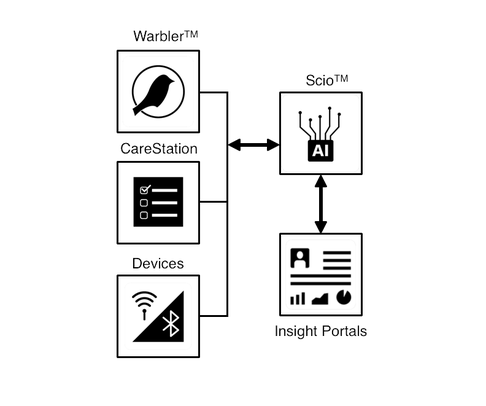 Senscio Health, the healthcare division of Senscio Systems has unveiled their next generation digital health solution, which uses AI technology to personalize and continually enhance care for the chronically ill. This 5% of the population with complex conditions accounts for over 50% of healthcare spending in the US. The new platform called Ibis™ Care 2.0 increases the ability for healthcare providers to achieve the "quadruple aim" in healthcare: better patient experience, improved population health, and higher clinician satisfaction at lower costs.
Ibis Focus Areas
Ibis leverages AI to deliver care in three crucial areas:
1. Engage member in self-management
Ibis enables communication with patients at home. Clear and friendly reminders, such as attention to medications, food, sleep, exercise and checking of vital signs and symptoms, are communicated through a touchscreen device in the member's home.
2. Assess health and behavioral changes
Artificial intelligence processes health data from multiple sources to constantly monitor and assess changes in behaviors and vitals to determine any need for clinical interventions.
3. Support the engagement of coaches and the care-team
Caregivers are notified as variations in patient conditions occur. In-depth, HIPAA compliant notifications provide details on where attention is needed and  why. With precise data, analyzed through the Senscio AI engine, interventions and caregiving becomes precise, timely and highly effective. ​​
How it Works
Ibis integrates and digest data from multiple sources.  The artificial intelligence within it interpret the data as it becomes available and prompts for actions as soon as it is needed. Ibis consists of the following components:
– Warbler is a wearable activity tracker that detects and records members's daily activity, including movement, sleep, and adverse events such as falls.
– CareStation an in-home touch screen terminal, activates member to take medications, check symptoms and vital signs, and perform all care tasks.
– Commercial Medical Devices collect physiologic and environmental data.
– Scio is the artificial intelligence engine that collects and interprets all the data from the members home to assess health status and prompt for action.
– Insight Portals report real-time data and actionable insights to the care team for timely and effective actions.
"Building on our current success with at risk populations, we have optimized and advanced our AI solution to further improve the health of people suffering from multiple chronic conditions, optimizing a mix of AI-enhanced digital therapeutics with personalized coaching," said Dr. Piali De, CEO and Co-Founder, Senscio Health. "Ibis 2.0 provides a digital therapeutics system improves support at home and for the entire care-team, to improve self-management and deliver proactive care," explained Dr. De. Ibis Care deployments already indicate a high impact, high value digital therapeutics solution in which 90% of exacerbations are detected and treated in the home, 3-7 days prior to when hospitalization would have been necessary.
Medicaid and Medicare Programs, Accountable Care Organizations (ACO), and Patient-Centered Medical Homes (PCMH) are adopting Senscio Health's digital therapeutics care model to provide seamless and efficient population health management through a value-based approach designed around patients.