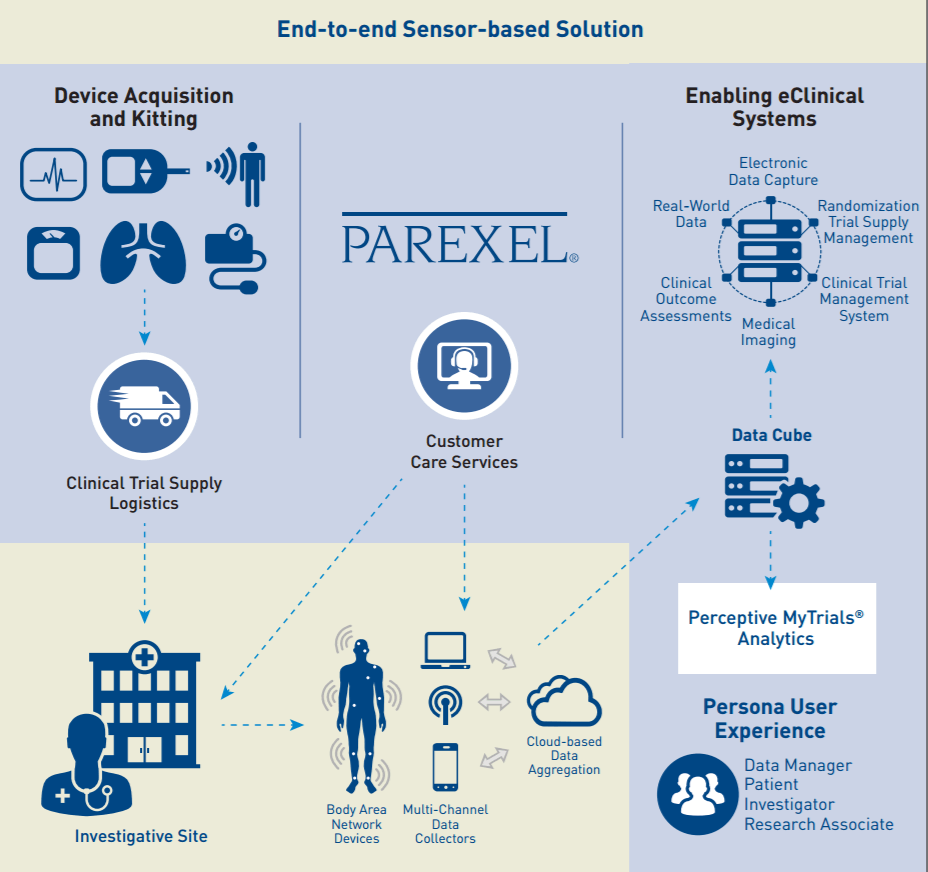 PAREXEL International Corporation (NASDAQ: PRXL), a biopharmaceutical services provider has unveiled its new patient sensor solution that securely captures, transmits, stores and visualizes study subject data in clinical trials. The new offering is powered by he Perceptive MyTrials® Analytics platform, enables an end-to-end services and technology solution that facilitates the remote collection of study subject data via medical devices.
The PAREXEL® patient sensor solution supports the generation of real-world data that can demonstrate value beyond the data collected during site visits. To deliver this solution, the Company has partnered with technology providers, including OSIsoft, to capture, securely transmit, store, and monitor data, as well as generate alerts based on the potentially large volume of time-series data from sensors.
Key Benefits for Clinical Researchers
For researchers, the new patient sensor solution could potentially reduce the burden on trial participants and sites as well as decrease trial costs. Wearable monitoring solutions also allow data to be collected more often. Frequent collection of this data can provide real-time meaningful insights into a study subject's behavior and health outside of visits, supporting better compliance and real-time user feedback.
PAREXEL's clinical trial expertise and the ability to collect sensor-based data is designed to create efficiencies for sponsors, eliminating the need to contract separately for wearable third party devices to leverage sensors in a clinical study. According to Frost and Sullivan, the global market for wearables in healthcare is expected to reach $18.9 billion in 2020. 
"Due to evolving regulatory and payer standards in today's healthcare market, there is a growing need to leverage alternative data sources in clinical trials. Wearables and sensors have the potential to transform Phase I-IV trials as well as observational studies. However, infrastructure and multi-functional expertise are needed to validate the appropriate use of medical devices to generate clinical and quality-of-life endpoints," said Xavier Flinois, President, PAREXEL Informatics. "PAREXEL's offering could disrupt the industry standard of collecting data during site visits only, allowing biopharmaceutical sponsors to more easily demonstrate safety and/or efficacy and differentiate treatments from competition using remote monitoring approaches."
The patient sensor solution is a complementary extension of PAREXEL's current services, and is available through the Perceptive MyTrials® platform.