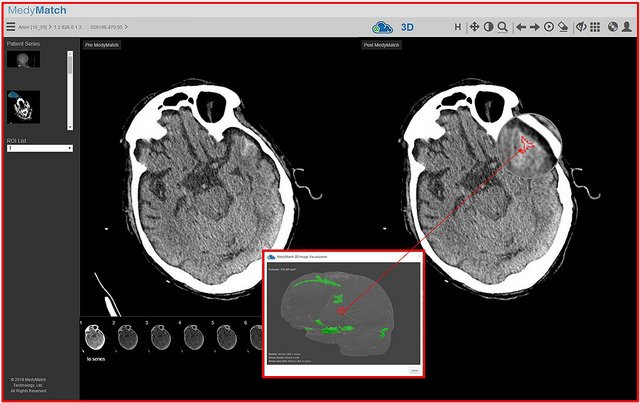 Samsung NeuroLogica Corporation has announced an collaboration with Tel Aviv-based startup MedyMatch to integrate its MedyMatch's A.I.-based clinical decision support app with Samsung NeuroLogica's medical imaging hardware in the acute care marketplace. This collaboration will create support tools which provide a second read capability to help caregivers quickly and accurately assess patients in prehospital environments. The announcement marks the Israel-based company traction following its recent integration partnership with IBM Watson Health to help doctors identify head trauma and stroke earlier this month.
Samsung-MedyMatch Integration Details
The initial focus area of the partnership will be on improving stroke assessment of MedyMatch's A.I. technologies into the mobile stroke unit (MSU), a specialized ambulance or other emergency vehicle that is equipped with a Samsung NeuroLogica CereTom® CT (computed tomography) scanner. The mobile unit with diagnostic CT imaging capabilities is designed to allow the team onboard to quickly assess whether a patient is having a stroke caused by a blood clot or hemorrhage. 
The very first step in patient assessment is to rule out the presence of a brain bleed, and this is where MedyMatch's technology will be utilized pending regulatory approval to provide decision support. Since "Time Lost is Brain Lost," rapid patient assessment will allow caregivers to move quickly down the most appropriate treatment path, potentially even while in transit to the hospital.  
A stroke occurs when blood flow to the brain is interrupted by a blockage or a rupture in an artery, depriving brain tissue of oxygen. Stroke is the fourth leading cause of death in the United States and a leading cause of disability. According to the CDC, close to 800,000 Americans suffer a stroke each year. Most suffer ischemic stroke, which occurs when blood flow to the brain is obstructed by a clot in a blood vessel. Fortunately, ischemic stroke can be treated effectively with a tissue plasminogen activator (tPA), a drug that if administered within three hours of the first signs of stroke dissolves a clot to improve blood flow back to the affected part of the brain. Unfortunately, it can take an hour after a stroke patient arrives in the emergency department to receive treatment because of the time needed to determine which kind of stroke the patient is having. 
"This is just one example of how Intelligent imaging can have a positive impact on a stroke or trauma patient and provide a whole new level of care by bringing "A.I. to the curbside", said Robert Mehler, Chief Operating Officer of MedyMatch. "MedyMatch envisions that medical imaging devices will be A.I. enabled with decision support to assist the physician in patient care, increase the speed in which patient assessment can be performed and optimize the clinical workflow."   
Founded in 2013, MedyMatch utilizes advanced cognitive analytics and artificial intelligence to bring cognitive tools into the daily workflow of an emergency department to help physicians assess patients suspected of head trauma or stroke, and rule out the presence of a bleed in the brain. Physicians using the A.I.-based platform can automatically identify regions of interest that could indicate the potential presence of cerebral bleeds –and does so without interrupting how a physician works.    The end result is acute emergency room treatment rather than life-long management of chronic conditions.