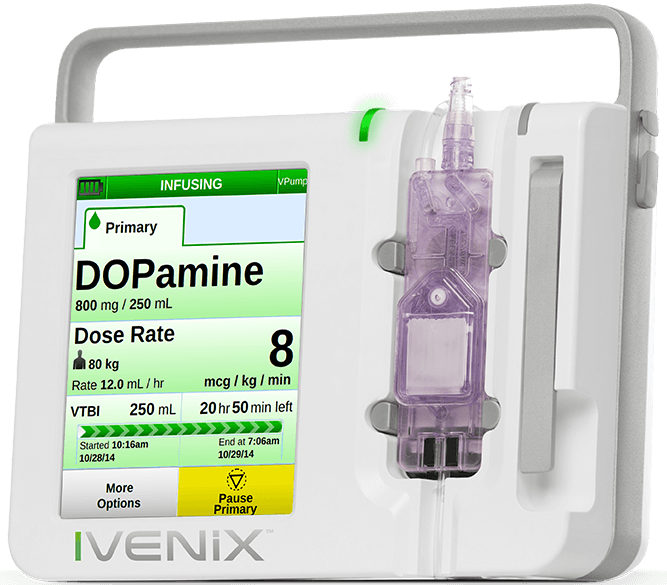 Ivenix, a medical technology company developing the next-gen infusion system has raised $50 million in equity financing led by two new undisclosed investors, as well as participation from existing investors F-Prime Capital Partners and WuXi Healthcare Ventures, among others. The company plans to utilize the funding to pursue FDA clearance and quickly expand its team for commercial launch. Ivenix is focused on bringing its first solution to market, a new and innovative infusion system for hospitals.
What Are Infusion Pumps? 
Infusion pumps deliver a precise dose of medication, nutrients or fluid over an extended period of time when manual administration by nursing staff would not be practical, cost-effective or efficient. Many people are familiar with the most basic type of infusion as the simple saline drip
Large volume pumps are used throughout the hospital, from the general floors to critical care units and most areas in between.  Small volume pumps infuse fluids in more limited amounts, such as hormones and opiates.  Pumps are typically programmed to set the fluid flow rate and frequency, and liquids are dispensed from disposable bags.  The U.S. infusion pump market is projected to be $4.7B by 2017.  More than half of these are large volume pumps.
Smart Pumps
Smart pumps were introduced to help reduce medication errors by automating calculation of infusion dose and rates. They also include digital drug libraries enabling selection of medication from hospital-defined, customized lists.  To enhance safety, drugs may be subject to pre-programmed hard or soft dosing limits.  Smart pumps may also provide other safety features.  However, despite these efforts, serious pump errors continue.
The infusion pump industry is dominated by three large medical device manufacturers—CareFusion Corporation (recently acquired by Becton, Dickinson and Company), Baxter International and Hospira, Inc (recently acquired by ICU Medical).  Most manufacturers have not significantly upgraded their core designs for almost 20 years—well before today's emphasis on healthcare IT—despite increasing complexity of drug dosing regimens, demand for EMR integration, and significant, widely reported patient safety issues. Any improvements have been incremental, as opposed to new, integrated solutions that focus on improving the fundamental underlying problems.
The Ivenix Infusion Management System addresses significant safety and performance gaps in existing pumps, while building in a broad, secure IT platform.  It includes a lightweight pump, IT platform proprietary administration set. 
– Ivenix's fundamentally new pump technology significantly enhances safety and performance by measuring and adjusting infusion flow rate accurately in real time.  Infusions are delivered accurately and reliably regardless of such common variables as bag height, line pressure patient, movement and infusion viscosity and temperature under a wide range of clinical conditions and settings. The system also automates the complex, error-prone set-up of infusing multiple fluids and bags.
– A simple, intuitive smartphone-like user interface presents information in familiar ways and especially helps prevent programming and interpretation errors, empowering users to administer medications in less time and with fewer pump interactions. Studies show a large number of adverse infusion events are related to incorrect or incomplete programming. 
– Advanced wireless, web-based architecture enables anywhere, anytime access to patient infusion and pump management data from any computer or mobile device for more informed decision-making. It also provides infusion analytics and enables scalable integration with EMRs and other information systems for broad-based infusion information sharing and support of quality and cost capture initiatives. Advanced cyber security helps system integrity and information privacy.
"The demand for an innovative infusion system in healthcare is evident, and we are proud to support Ivenix as the trailblazer working to bring a truly revolutionary solution to this underserved market," said Ketan Patel, MD, partner with F-Prime in a statement.  "Moreover, infusion pumps represent a $6 billion global market and offer significant opportunities for a high-performance infusion system that can meet the challenges of healthcare today, while providing the infrastructure to support the emerging technologies of tomorrow."