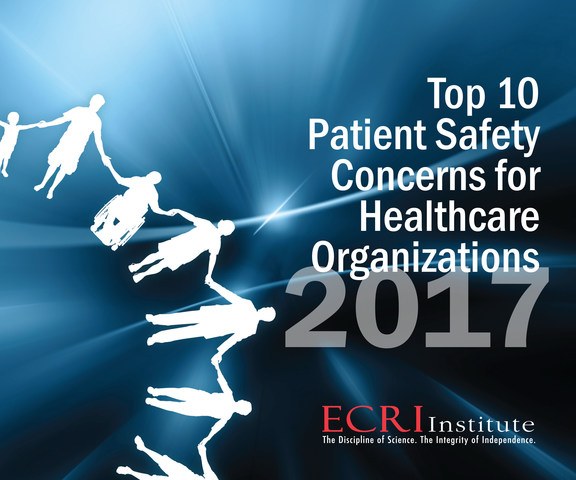 Information management in electronic health records (EHRs) has been named the top patient safety concern for healthcare organizations in 2017, according to the ECRI Institute. ECRI Institute's 2017 Top 10 Patient Safety Concerns for Healthcare Organizations report reveals that the troves of information to manage, and the advent of EHRs has brought significant presents significant challenges for healthcare providers.
"But the object is still for people to have the information that they need to make the best clinical decision," says Lorraine B. Possanza, DPM, JD, MBE, program director, Partnership for Health IT Patient Safety, ECRI Institute in a statement. "Health information needs to be clear, accurate, up-to-date, readily available, and easily accessible."
The list and associated guidance is intended to help healthcare organizations identify priorities and aid them in creating corrective action plans. The fourth annual report also highlights patient safety concerns from patient identification, clinical decision support, and new oral anticoagulants to long-standing concerns like test result reporting and follow-up and unrecognized patient deterioration. ECRI Institute relied on its Patient Safety Organization (PSO) event data, concerns raised by healthcare provider organizations, and on expert judgment to select the topics for the 2017 list.
This year's list includes:
1. Information Management in EHRs
2. Unrecognized Patient Deterioration
3. Implementation and Use of Clinical Decision Support
4. Test Result Reporting and Follow-Up
5. Antimicrobial Stewardship
6. Patient Identification
7. Opioid Administration and Monitoring in Acute Care
8. Behavioral Health Issues in Non-Behavioral-Health Settings
9. Management of New Oral Anticoagulants
10. Inadequate Organization Systems or Processes to Improve Safety and Quality
ECRI Institute encourages organizations to adapt relevant patient safety interventions to meet each care setting. Although not all patient safety concerns on the list apply to all healthcare organizations, many are relevant to a range of settings across the continuum of care.