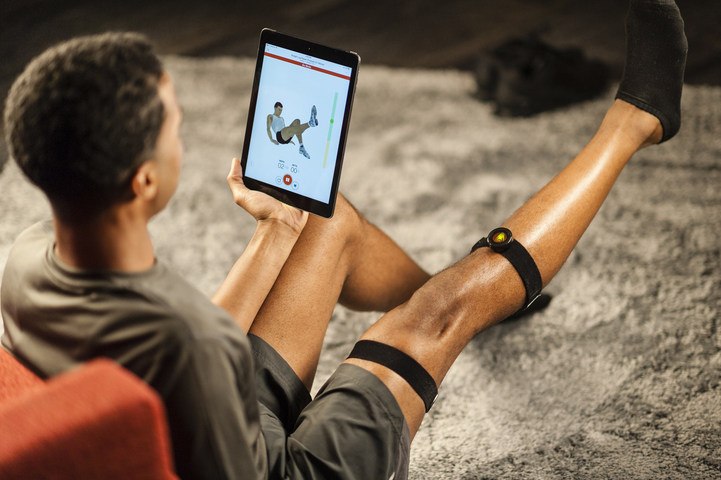 Breg, Inc., a provider of integrated solutions that help improve the quality and lower the cost of the orthopedic episode has launched Breg Flex – a first-of-its-kind mobile health solution designed to facilitate and improve patients' at-home recovery following orthopedic surgery.  Breg Flex makes at-home physical therapy (PT) more convenient and engaging for patients which promotes protocol adherence, resulting in the potential to improve outcomes, reduce costs and provide a better patient experience.
Breg Flex uses a chargeable Bluetooth® wireless sensor, worn by patients to track progress with prescribed PT exercises, and an easy-to-navigate mobile app, which guides patients through PT exercises with video demonstrations. The sensor and mobile app work together to capture range-of-motion tracking, vital to successful recovery outcomes, and share real-time information about patients' at-home PT progress with their healthcare providers. This allows clinicians to course correct treatment protocols as needed. Unlike at-home PT programs that are tethered to a console, Breg Flex wireless sensors and mobile apps mean patients have true mobility, and can access therapy anytime, anywhere.
Research shows that less than 35 percent of patients are adherent to their at-home PT regimen following surgery,i though it remains a crucial element of a successful recovery. At the same time, many providers are now being held accountable for all costs related to hip and knee replacements in a value-based care plan, such as Comprehensive Care for Joint Replacement (CJR), where providers are penalized if patients have complications, or require lengthy rehabilitation. This confluence of factors led to the development of Breg Flex, making the recovery process more fun and convenient for patients, while giving providers the ability to diligently oversee patients' rehabilitation progress in real time.
"Our beta program revealed that Breg Flex has the potential to improve overall patient outcomes. It found that Breg Flex patients achieved their optimal outcome using 25 percent less visits than non-Breg Flex patients in the same diagnosis group," said Dr. Daniel Segina, a nationally recognized orthopedic trauma surgeon based in Rockledge, Florida. "Breg Flex patients scored 20 percent higher on their functional improvement scores than non-Breg Flex patients, on average. Additionally, Breg Flex patients were 75 percent compliant with their therapy protocols (vs. an average of 30 percent for non-Breg Flex patients), and reported a satisfaction level of 90 percent, on average."
Key features of Breg Flex include:
– Bluetooth motion sensor: accurately monitors patient range-of-motion flexion and extension, and compliance
– Wireless patient connectivity: patients can take PT with them anywhere they go: they are not restricted by a tethered system
– Simple patient dashboard: providers can quickly see how patients are progressing with their therapy
– Gamified experience: motivational experience encourages patients to reach their goals
– Mobile patient monitoring: providers have convenient access into each patients' results from a smartphone
– Objective data capture: enables providers to proactively manage therapy costs and post-acute outcomes
– Secure in-app messaging: patients and providers can send text messages, videos or photos; request a call and/or an appointment with a provider; and make Facetime/Skype calls (if enabled)
– Custom protocols: provides standardized care for each diagnosis group, with the flexibility for providers to modify as needed
– Interactive patient app: guides patients through therapy and provides a virtual therapist to mirror their movements