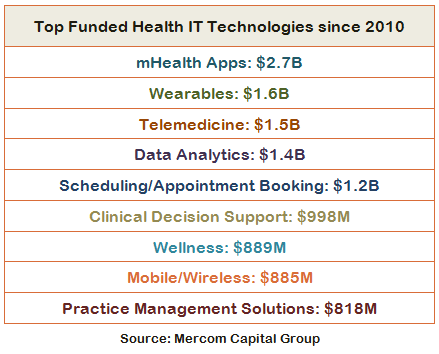 mHealth Apps ($2.7B), wearables ($1.6B), telemedicine ($1.5B), data analytics ($1.4B), scheduling/appointment booking ($1.2B), clinical decision support ($998M), wellness ($889M), mobile/wireless ($885M), and practice management solutions ($818M) is the top funded health IT technologies since 2010, according to Mercom's Annual and Q4 2016 Healthcare IT Funding and M&A Fact Sheet. Mercom's comprehensive report covers healthcare IT and digital health deals of all sizes across the globe.
Since 2010, the sector has received $18.5 billion in VC funding in 2,672 deals and almost $7.5 billion in debt and public market financing (including IPOs), bringing the total funding for the sector to $26 billion.
Key findings from Mercom Capital's latest report include:
Top VC Funded Deals in 2016
– Ping An Good Doctor raised $500 million from international and Chinese investors.
– Chunyu Yisheng secured $183 million from China International Capital Corporation (CICC) and other investors.
– Flatiron Health raised $175 million from Roche, Allen & Company, Baillie Gifford, and Casdin Capital.
– Jawbone raised $165 million in new funding from KIA and Sequoia Capital.
– Meet You raised $151 million from existing and new investors including: Matrix Partners China, K2VC, and Cathay Capital Private Equity.
2016 VC Funding by Technology
– Mobile Health $2.1 billion in 240 deals
– Health Information Management $1.3 billion in 154 deals
– Telehealth $660 million in 86 deals
– Personal Health $407 million in 57 deals
– Scheduling, Rating & Shopping $283 million in 49 deals
– Service Providers $138 million in 15 deals
– Revenue Cycle Management $90 million in 11 deals
– Security $45 million in 5 deals
– Social Health $2 million in 5 deals
Top VC Investors with Multiple Deals in 2016
– Khosla Ventures (7 deals)
– GE Ventures (6 deals)
– Social Capital (6 deals)
– BlueCross BlueShield Venture Partners (6 deals)
Corporate M&A Transactions
– Q4 2016: $880 million in 42 transactions (11 disclosed)
– Q3 2016: $3.7 billion in 53 transactions (16 disclosed)
– Q2 2016: $1.5 billion in 52 transactions (7 disclosed)
– Q1 2016: $6.7 billion in 58 transactions (9 disclosed)
– Q4 2015: $1.4 billion in 53 transactions (13 disclosed)
– 2016 Annual: $13 billion in 205 transactions (43 disclosed)
– 2015 Annual: $6.8 billion in 219 transactions (46 disclosed)
Top 5 Disclosed M&A Transactions in 2016
1. Pamplona Capital Management acquired MedAssets for $2.75 billion.
2. IBM acquired Truven Health Analytics for $2.6 billion.
3. EQT Equity fund EQT VII (EQT) acquired Press Ganey Associates for $2.35 billion.
4. Allscripts acquired Netsmart Technologies from Genstar Capital for $950 million.
5. Veritas Capital acquired Verisk Analytics' healthcare services business from Verisk Health (known today as Verscend) for $820 million.
IPOs in 2016:
– NantHealth, a cloud-based healthcare IT company delivering care through a single integrated clinical platform, raised $91 million through its IPO. The shares are listed and began trading on Nasdaq in June 2016.
– Tabula Rasa HealthCare (TRHC), provider of a cloud-based medication decision support and e-prescribing platform, brought in $51.6 million through its IPO. Tabula Rasa's shares are listed and began trading on Nasdaq in September 2016.
– Oneview Healthcare, a provider of patient engagement and clinical workflow solutions to healthcare facilities, raised $46.5 million through its IPO. The shares of Oneview started trading on the Australian Stock Market through CHESS Depository Instruments in March 2016.
– Senseonics, developer of an implanted sensor and smartphone-connected continuous glucose monitoring device using fluorescence-sensing technology, raised $45 million through its IPO. Its Shares began trading on the New York Stock Exchange in March 2016.
IPO Transactions
– Q4 2016: $52 million in 1 deal Q3 2016: No IPOs
– Q2 2016: $91 million in 1 deal
– Q1 2016: $91.5 million in 2 deals
– 2016: $234 billion in 4 deals
– 2015: $2.2 billion in 7 deals