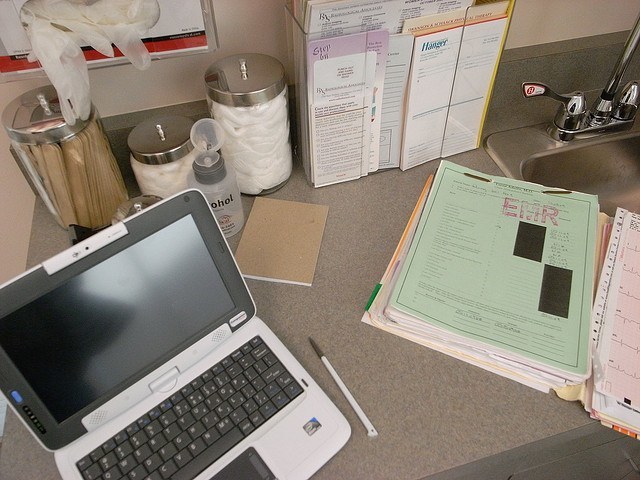 Majority of healthcare leaders plan to use additional technologies and tools to realize the full intended benefits of electronic health records (EHRs) and to improve clinician satisfaction with using them, according to a Nuance EHR study conducted by HIMSS Analytics. The study reveals that improved clinical documentation resulting from EHRs and related technologies will drive positive financial impact for their institutions, including appropriate reimbursement and increased patient flow.
Today, organizations are investing heavily in resources to support EHR use and documentation of patient information. Three quarters have added training and support resources, and two-thirds have increased staff in at least one IT area since moving to an EHR.
A majority of respondents identified three primary ways healthcare institutions are working today to improve clinician satisfaction around EHR use:
– 82% provide clinician training and education
–  75% enhance existing technology and tools
–  68% adopt new technology and tools
Plans to introduce EHR-enhancing technologies in 2017
While arming clinicians with technology at the point of care is not pervasive today, approximately one quarter of respondents plan to introduce enhancing technologies at the point of care to optimize EHR use. This will help clinicians more fully document the patient story, improve satisfaction and reduce physician burnout, ultimately resulting in improved patient flows and better financial outcomes. The top enhancing technologies planned for use in 2017 are:
– Mobility tools – 44%
– Computer-assisted physician documentation (CAPD) – 38%
– Speech recognition – 25%
More complete patient records drive financial impact
Hospitals realize that more accurate and complete clinical documentation of patient encounters not only impacts patient safety, care delivery and outcomes, but also has a significant impact on finances for the institution. Two-thirds of respondents indicated that improved clinical documentation that results in capturing appropriate data for reimbursement will have the largest financial impact for their organizations.
Other areas that would benefit from improved documentation include:
– Reduction in denied claims – 54%
– Improved performance under bundled payments – 52%
– Reduced re-admissions – 38%
– Better physician time management that improves patient flow – 38%
Study Background
The EHR and Clinical Documentation Effectiveness Study, conducted by HIMSS Analytics, was designed to understand the adoption and optimization of EHRs and supporting tools used by clinicians, as well as opportunities for improvement at hospitals and healthcare systems.