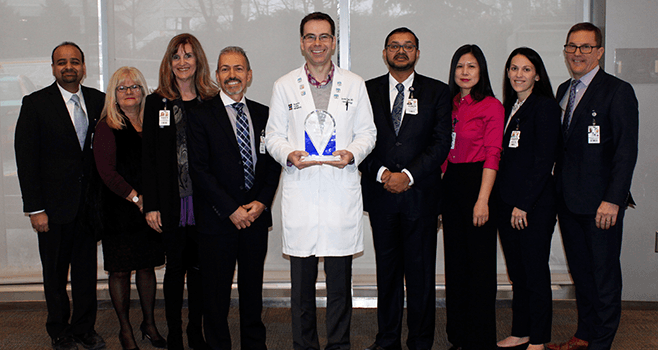 North York General Hospital, a community academic hospital located in the Toronto suburb of North York, Ontario has been named a 2016 HIMSS Enterprise Davies Award recipient. Through partnerships, collaboration and academic endeavours, North York General seeks to set new standards for patient- and family-centred care. NYGH submitted four case studies demonstrating how they leveraged health IT to improve patient outcomes.
– NYGH implemented closed-loop medication administration (CLMA.) By leveraging information technology at every step in the process, CLMA eliminated manual entry of medications and fires an alert if a medication about to be administered does not match the drug, dose, route, timing and/or intended patient indicated in the active orders on the electronic chart. From 2010-2015, NYGH has prevented more than 11,000 medication errors using CLMA.
– Through the use of computerized provider order entry (CPOE) and clinical decision support in the form of order sets and alerts, NYGH cut expected VTE occurrences in half.
– Through safety and quality initiatives driven through CPOE, clinical decision support and medication reconciliation, NYGH significantly lowered the probability of in-hospital death from medication errors, pneumonia and exacerbation of chronic obstructive pulmonary disease (COPD).
"The challenge of implementing change of this scope and scale was immense, but possible, thanks to great teamwork and a constant focus on the quality and safety benefits we are celebrating today," said Dr. Tim Rutledge, president and CEO, North York General Hospital. "Receiving the Davies Award is a reflection of the commitment to excellence of our people, the staff and physicians who made it happen."
Davies Award Background
Since 1994, the HIMSS Nicholas E. Davies Award of Excellence has recognized outstanding achievement of organizations that have utilized health information technology (IT) to substantially improve patient outcomes while achieving a return on investment.
Davies Awards represent the highest level of achievement for electronic medical records excellence that HIMSS offers. The award is open only to organizations that have achieved HIMSS Analytics Stage 6 or Stage 7 designation for advanced electronic medical records. MU Health Care achieved Stage 7 designation in November 2013 for its transition from paper to electronic patient records in outpatient clinics. The Davies Awards program promotes EHR-enabled improvement in patient outcomes through sharing case studies and lessons learned on implementation strategies, workflow design, best practice adherence, and patient engagement.