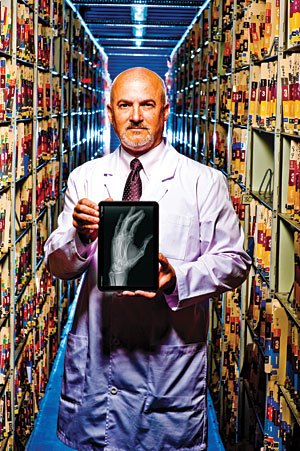 Vocera Communications, Inc. has named Benjamin Kanter, MD, FCCP, as the new Chief Medical Information Officer (CMIO) to lead the company's physician-nurse communication. Prior to joining Vocera, Dr. Kanter worked as an industry consultant and thought leader with innovative healthcare IT companies, including Extension Healthcare, where he was the CMIO. In 2013, while the CMIO of Palomar Health in San Diego, Dr. Kanter worked with Extension Healthcare to create a reverse look-up smartphone app that allows physicians to search for patients and immediately identify and contact their assigned nurse.
As CMIO at Vocera, Dr. Kanter will continue improving patient care and physician-nurse communication by working closely with a team of clinical experts, including Chief Medical Officer Bridget Duffy, MD, and Chief Nursing Officer Rhonda Collins, MSN, RN.  Additionally, he will split his time between working with hospital customers to understand their technology needs and translating those needs into Vocera's product roadmap and development priorities.
"I'm looking forward to collaborating with a diverse and impressive team of innovators and industry leaders at Vocera," said Dr. Kanter.  "With so much talent behind an intelligent communication platform, Vocera is sure to make a significant and lasting impact on how care teams connect, communicate and collaborate. My mission remains clinical, improving the lives of caregivers and patients, and Vocera is aligned with that goal. It's a joy to combine my work with this purpose."
Dr. Kanter earned his medical degree and completed internal medicine training at Northwestern University. He is board-certified in internal medicine, pulmonary disease and medical informatics. Dr. Kanter has been a member of several corporate advisory boards including Cisco, Nuance, AirStrip Technologies, and Spyglass Consulting.