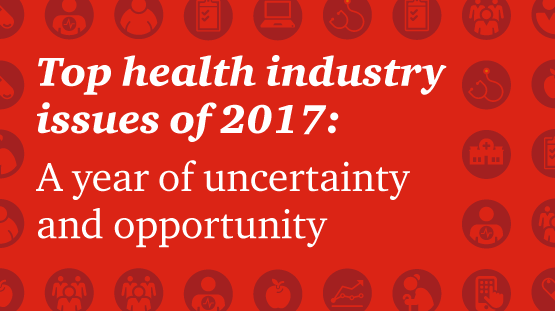 2017 will be a year dominated by the continued shift toward value within healthcare as the industry adapts to a new era under the administration of President-elect Donald J. Trump, according to PwC's Health Research Institute (HRI). Traditional health organizations and new entrants will need to balance the uncertainty of the new administration's approach to healthcare with the continued opportunities being created by forces greater than politics.
The annual PwC report, "Top Health Industry Issues of 2017," highlights 10 key healthcare industry issues that are expected to have the most impact on the industry in the coming year based on a survey of 1,750 consumers and interviews with health industry leaders. 
"Today we have a health system that is more connected, transparent and patient-centric than ever before.  Over the course of the past decade, the healthcare industry has witnessed significant improvements, but also consistent challenges in the New Health Economy," said Kelly Barnes, PwC US Health Industries leader in a statement. "There is still work to be done to improve the consumer experience and affordability even as a new presidential administration starts to make their mark on the health system. Our prescription for the industry–double down on more innovation, new collaborations and the shift to value-based care.
Here is a look at PwC's top ten healthcare industry issues to watch in 2017:
1. Under a new administration, the fate of the ACA remains unclear
As one of his top priorities, President-elect Trump aims to repeal the ACA and replace it with a mix of tax credits, health savings accounts, high-risk pools, state Medicaid block grants and a transference of regulatory control from federal to state government.
2. Pharma's new strategic partner? Patients
Facing increasingly challenging reimbursement and regulatory environments, as well as new trends in consumerism, pharmaceutical companies will likely better engage with patients to justify prices, show value and satisfy calls by regulators.
3. Easing the training wheels off value-based payment
To date, new programs and payment models have largely involved upside risk for healthcare providers. But this will begin to change next year as the training wheels for these risk-based arrangements are eased off.
4. Insert your card here for healthcare
Health systems will need to modernize secure payments with low risk and low complexity in preparation for creating more consumer-centered experiences. PwC estimates 5% of healthcare provider revenue today comes through credit card transactions, which will likely double by 2020. According to a recent HRI survey, one in four consumers in poor or fair health stated that their experience with hospital billing and payment damaged their opinions of the organizations.
5. Paging Dr. Drone: It's time to prepare for emerging technologies
In 2017, the healthcare industry will need to prepare for emerging technologies – such as artificial intelligence, drones, virtual reality and 3D printing – and their impacts on business models, operations, workforce needs and cybersecurity risks.
6. The battle against infectious diseases sparks invention
As the war against infectious disease and antimicrobial resistance expands across borders, public health agencies and private industry in the US and Europe are collaborating and investing in the development of new weapons to fight back.
7. Rx cauliflower: Nutrition moves to population health
The drive toward value-based care is prompting established health organizations and new entrants to focus on nutrition as a way to prevent costly medical problems and improve the overall health of the populations they serve. This growing industry awareness of diet as a key driver of healthcare costs for many Americans is fueling creation of inventive programs and collaborations in 2017.
8. Putting the brakes – gently – on drug prices
3 years of ongoing pressure on the biopharmaceutical industry's drug pricing practices may lead to new pricing restrictions led by industry trade organizations and pharmaceutical executives, not regulators.
9. A year of new partnerships and collaborations
The health industry will likely experience continued consolidation through mergers and acquisitions in 2017, with an uptick in alternative transactions, such as joint ventures, partnerships, strategic alliances and clinical affiliations.
10. Preparing medical students for work in a value-based world
As the health industry continues to shift toward value-based care, medical schools and residency programs are building innovative training programs to prepare students for a new healthcare landscape upon their graduation.