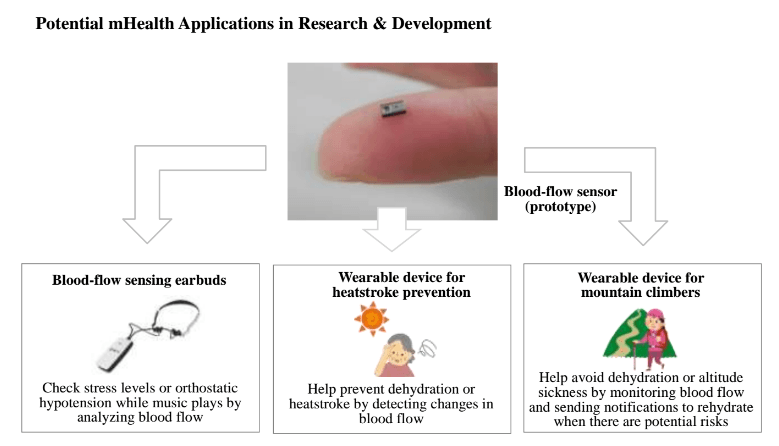 Kyocera Corporation has unveiled one of the smallest known optical blood-flow sensors, which measures the volume of blood flow in subcutaneous tissue. Measuring only 1mm high, 1.6mm long and 3.2mm wide, the sensor is designed for use in small devices such as smartphones and wearable devices.
Kyocera, which provides a wide range of components for smartphones and wearables, has been developing slimmer, smaller products to support higher functionality in more compact devices. The company developed this sensor as an integrated module, incorporating the laser diode and photodiode into a single ceramic package, based on its established expertise in miniaturization technologies.
How it Works
Digital health solutions equipped with this new sensor will be able to measure blood-flow volume in subcutaneous tissue by placing the device in contact with an ear, finger or forehead*2. When light is reflected on blood within a blood vessel, the frequency of light varies — called a frequency or Doppler shift — according to the blood-flow velocity. The new sensor utilizes the relative shift in frequency (which increases as blood flow accelerates) and the strength of the reflected light (which grows stronger when reflected off a greater volume of red blood cells) to measure blood-flow volume.
Featuring a high signal-to-noise ratio (S/N), small size and low power consumption (output: 0.5mW), the sensor can be easily integrated into a smartphone or wearable device for mobile health apps.
Potential Use for Digital Health
With this sensor, Kyocera is currently researching to utilize it in a variety of digital health solutions such as monitoring stress levels or preventing dehydration, heatstroke and altitude sickness by studying trends or changes in blood-flow volume as alerts for these conditions and developing algorithms for detection. 
The company plans to offer sensor module samples starting April 2017, and aims to commercialize the technology as a device by March 2018.