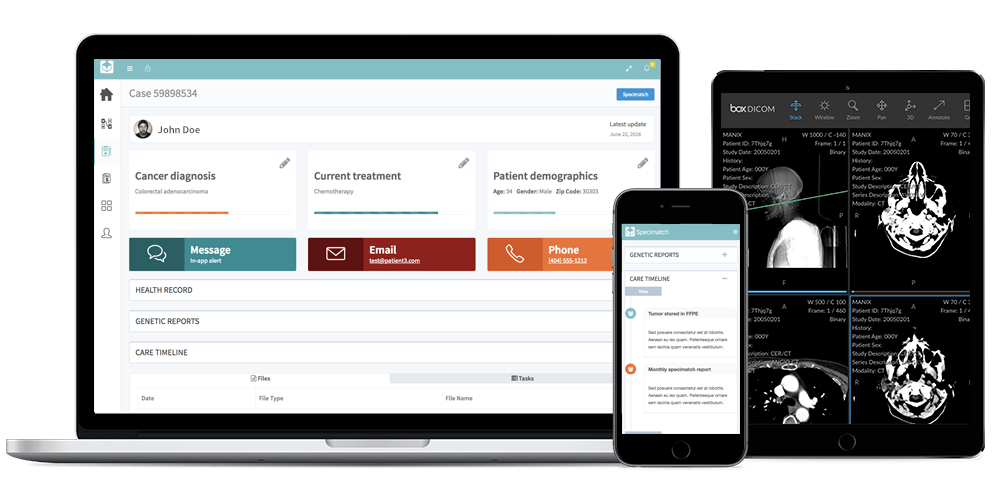 Specimatch, a continual clinical trial monitoring service, has unveiled the web-based software service for cancer patients and oncologists. On Specimatch.com, users can easily and intuitively connect to clinical trials personally matched to the patient's genetic and clinical profiles.
Founded in 2016 by Dr. Ken Dixon, founder/surgical oncologist of Surgical Oncologists of Northeast Georgia, Specimatch.com's interface was created to let both clinicians and patients take part in the management of their cancer care. The program is a cloud- and web-based software, taking the clinical and genetic data from the patient and continuously scouring more than 250K trials for precision-matched treatment opportunities. With both a clinician and a patient interface, it allows oncologists to better partner with patients and ensures the best possible outcomes from their treatment plan.
Platform Key Features
Specimatch is a monthly subscription-based software service offering:
· Continual 24/7 Monitoring – Combs database (powered by Thomson Reuters) of more than 250,000 trials to identify matching trials in real time, based on a user-completed clinical and genetic profile
· Email Notifications – Alerts users to the latest clinical trials matching their specific molecular diagnosis
· Patient Interface – Allows patients to manage their information and matching trials anywhere through the intuitive, web- and mobile-friendly Care Timeline
· Care Provider Interface – Allows clinicians to review and manage information for each of their patients in one place
·  HIPAA-Compliant Cloud Infrastructure – Protects patient information with best-in-class measures exceeding HIPAA requirements
Growing Role of Clinical Trials in Driving Cancer Breakthrough
Reducing the impact of cancer continues to grow as a priority across, not only the healthcare sector, but also influential institutions ranging from global advocacy groups to the White House. Clinical trials are a key driver in bringing cancer breakthroughs to market, yet 75 percent of investigators fail to enroll the targeted amount of patients per trial despite hundreds of millions of dollars in spending per trial. Although trials offer first access to cutting-edge precision treatments, approximately 85 percent of U.S. cancer patients lack access to these opportunities and only 3 percent are successfully placed into trials.
"Accessibility to cancer trials is not only critical to improving the quality of precision medicine, but it is also an invaluable option for the cancer patient whose survival is at stake," said Dixon. "We created Specimatch as a solution for patients and oncologists to tap into a complex landscape of breakthrough treatments with both accuracy and simplicity. Specimatch alleviates the gaps in care by putting the power of precision medicine in the hands of patients and the doctors with whom they partner in the fight against cancer."
"Specimatch restores the power that a cancer diagnosis can often steal from a patient," Dr. Dixon said. "We are proud to provide this timely information and access because we believe it's how cancer will meet its match and [how] survival rates will improve."