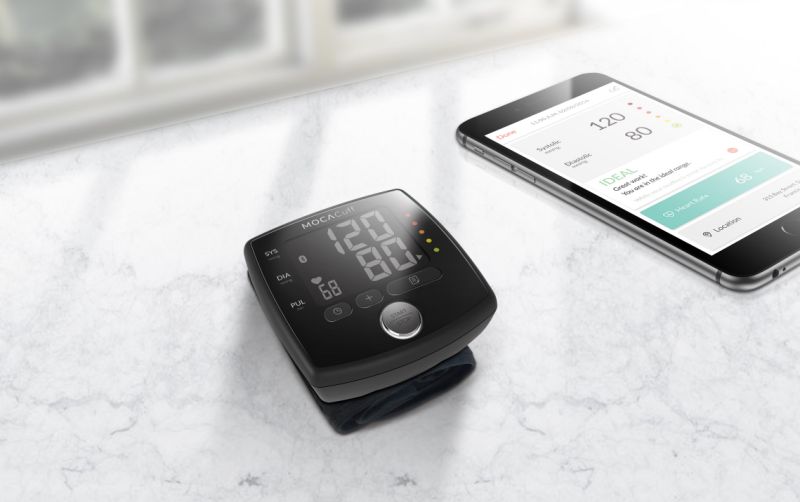 MOCACARE, a Silicon Valley based company has launched MOCACuff, a FDA-approved wireless blood pressure monitor that fits comfortably on the wrist. Priced at $69.99, MOCACuff is the second product in the MOCACARE line that makes it easy to incorporate blood pressure monitoring into your everyday routine and receive instant, actionable insights to improve your health.
MOCACARE first product, MOCAheart device uses thumb scans to measure heart rate, blood oxygen levels, and pulse wave velocity – a measurement of arterial stiffness that is correlated to blood pressure and widely recognized as one of the best indicators of overall cardiovascular health.
How it Works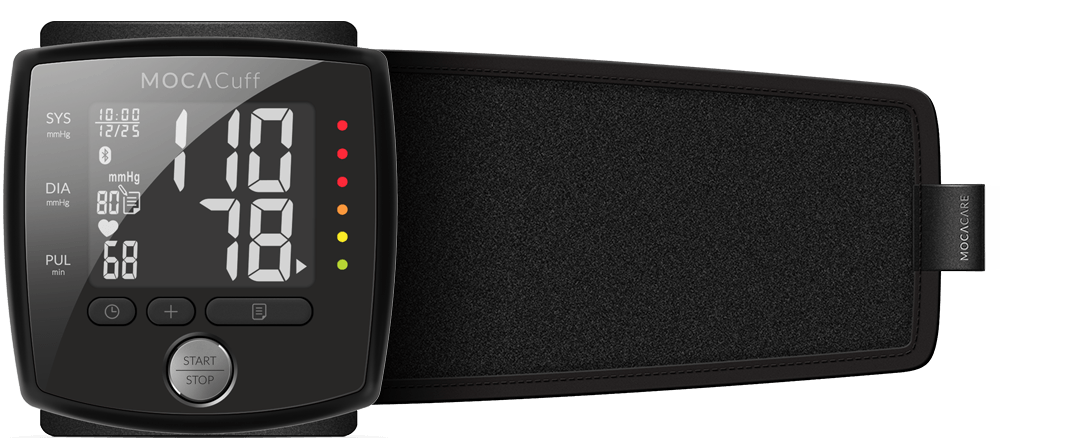 One of the most common problems associated with inaccurate or failed readings stems from uncomfortable or ill fitting upper arm cuffs. Worn on the wrist, the beautifully designed MOCACuff provides an easier alternative to bulky arm cuffs for consumers looking to proactively monitor or improve existing cardiovascular conditions.
Once on, the wrist is brought to heart level and a reading is ready to be performed at the touch-of-a-button. After each reading, the MOCA Cuffscreen displays pulse rate, systolic and diastolic measurements, and a color-coded indicator that corresponds to the American Heart Association's (AHA) blood pressure categories, allowing users to see where their health stands.
MOCACARE App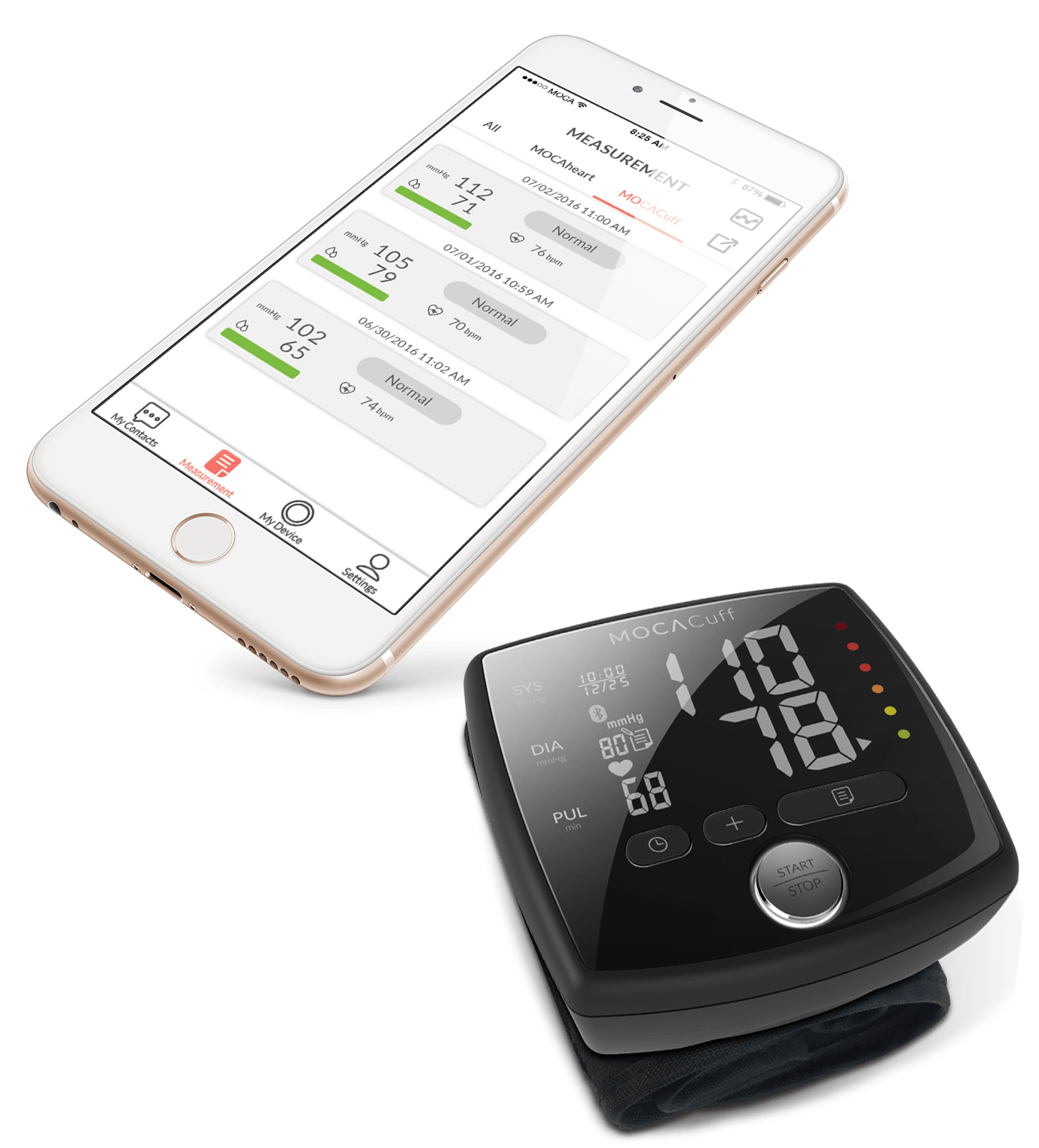 MOCACuff connects to the MOCACARE App (Android and iOS compatible) to provide an even more intuitive and insightful heart health monitoring experience for users on their smartphone. MOCACuff  helps users visualize their goals and track progress through the App and provides consumers with expertly-curated, personalized health recommendations, which are in accordance with guidelines from the American Heart Association, to achieve their goals. The MOCACARE App also provides customizable data viewing options; either by displaying results as visual trends or alternatively in a list format.
Other key features of MOCACARE app include:
– Easy sync – With a single tap of a button, your measurement history is synced wirelessly to your smartphone — helping you organize your health data, track and improve your health trends, and achieve your health goals.
– Heart healthy lifestyle tips – After each measurement, receive actionable insights and tips to improve your heart health. Based on guidelines from the American Heart Association, these tips empower you to take better care of your health.
– Visualize goals and track progress – Making lifestyle changes? See how your health indicators are improving over time.
– Share your results – Get support and motivation from your own cheer squad. The HIPAA compliant chat platform makes sharing health data with doctors and loved ones effortless.
– Multiple users – Allow friends/family to try MOCA devices without disturbing your health trends by removing irregular readings from your measurement history, or create new profiles for other family members.
"At MOCACARE, we're driven by a goal to simplify heart health monitoring and to make caring for your health an easy, intuitive and reliable experience," said Naama Stauber, co-founder and COO of MOCACARE in a statement. "Like MOCAheart before it, MOCACuffis specifically designed to be as simple as possible for everyone to monitor his or her cardiovascular health. Whether you're viewing your measurements right away or comparing your results over time, consumers can now take back control of their health without missing a beat."
MOCACuff is available for purchase at www.mocacare.com.