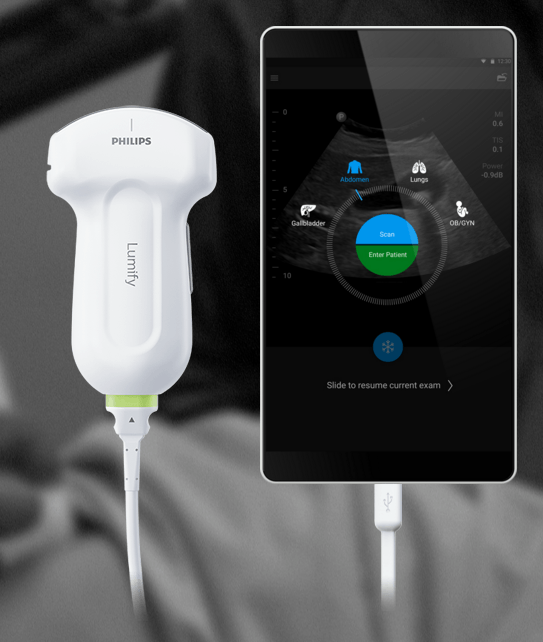 Royal Philips today announced it has received 510(k) clearance from the U.S. Food and Drug Administration (FDA) for Lumify, its smart-device diagnostic ultrasound solution. The pocket-sized and lightweight S4-1 transducer now offers advanced sensitivity and exceptional high-resolution 2D image quality, along with new exam pre-sets, allowing clinicians to quickly triage and assess their patients like never before.
Unveiled in late 2015, Lumify, the Philips smart device powered ultrasound solution, helps healthcare professionals make fast, informed decisions. With Lumify's full suite of point-of-care transducers, physicians in emergency care situations can take advantage of every crucial moment without the time and mobility restrictions of locating an ultrasound cart, which is often in use and/or in another department.
Subscription Model
Available with a monthly subscription starting at an introductory price of $199, Lumify allows institutions to scale their ultrasound solution to meet their needs and environment without having to purchase imaging equipment. The subscription includes a transducer, app, access to the online portal, warranty and Philips' support. Lumify is also now available through a one-time purchase transaction.
Lumify Smart Device Ultrasound Overview
Designed to help make ultrasound more accessible, Lumify operates on user-supplied compatible Android smart devices equipped with Internet and email functionality. To use Lumify, users download The Lumify App from Google Play, connect their Philips transducer to their compatible smart device via USB and launch the app to begin scanning. 
The Philips transducers available as part of the subscription support Lumify's use in acute and emergency care, internal medicine, musculoskeletal (e.g., orthopedics, sports medicine and podiatry) urgent care and office practice. Philips' advanced transducer technology, paired with cloud-enabled and tablet technology, helps users make fast, informed diagnoses through a variety of scan types. Lumify's scanning app allows users to examine the gall bladder, abdomen and lungs, in addition to having ob-gyn, vascular, superficial, musculoskeletal and soft tissue functionality. 
Beyond integrating with everyday technology such as personal, off-the-shelf, compatible smart devices, Lumify also uses cloud-enabled technology to connect with PACS, shared networks and system directories. Additionally, data will be accessible on the Philips HealthSuite Digital Platform, an open and secure, cloud-based IT infrastructure, allowing clinicians and health systems access to powerful data and analytics to help improve patient care.