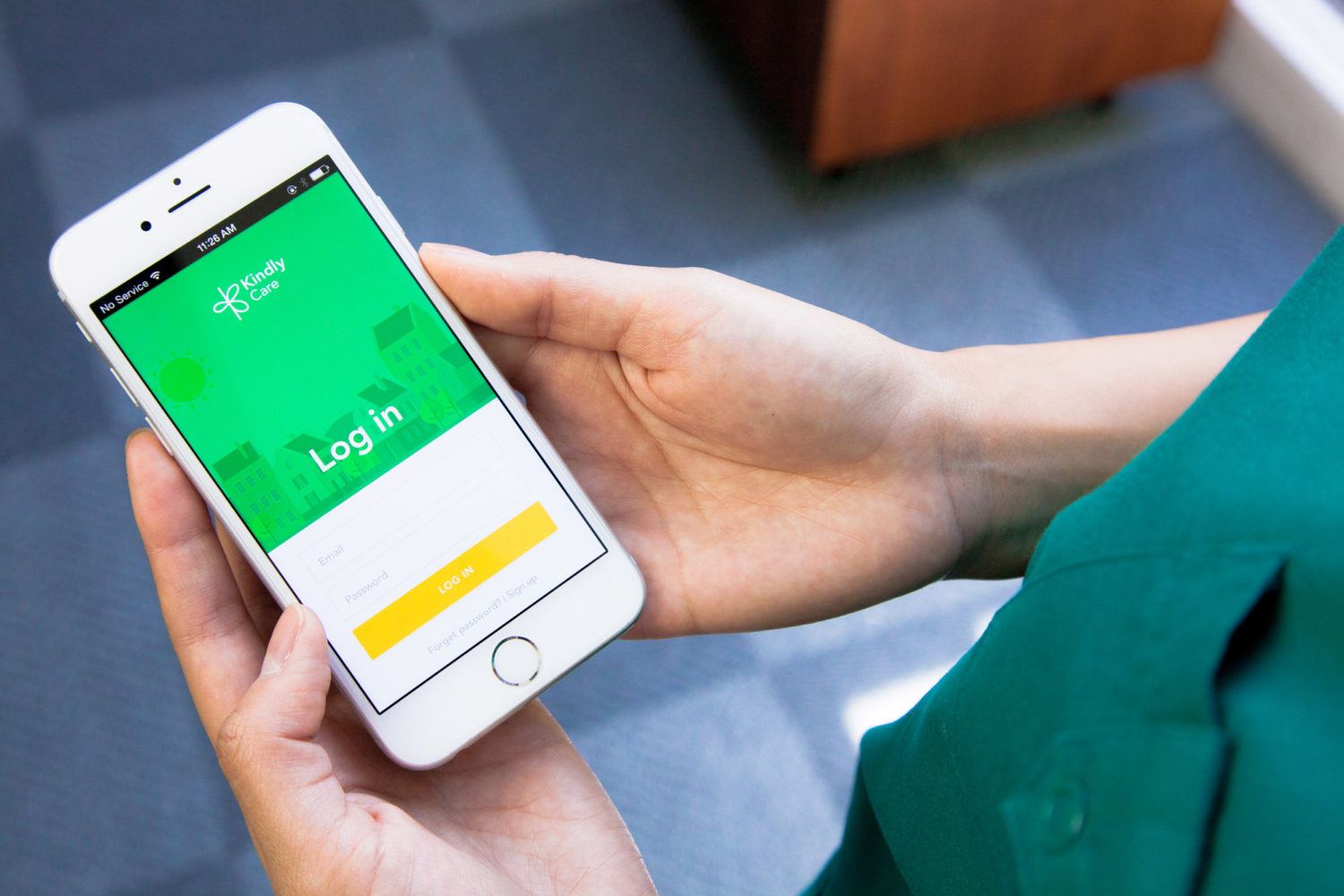 Digital health startup Kindly Care has officially launched today with $3.1 million in seed funding to expand its self-service care management platform, which provides private employers with the tools and services that are typically reserved for agencies and hospitals.  The funding was led by MHS Capital, with participation from Floodgate and Jackson Square Ventures. Kindly Care will use the funds to grow its unique suite of tools and services that empower families to be more in charge of the care for their elderly loved ones. Kindly Care is available as both a web platform and as an app for iOS and Android.
Working directly with private live-in caregivers instead of going through a home care agency can lead to massive savings. However, hiring and managing private employees is a monumental task, so families either outsource the care to an agency, or they cut corners and hire people without background checking them, setting up insurance, payroll, etc. Founded by Igor Lebovic and Erik Fantasia, Kindly Care was launched to make it incredibly simple to privately hire caregivers without having to worry about sourcing, safety or compliance. To make this DIY approach as seamless as possible, Kindly Care has developed FREE cell phone apps that handle all aspects of managing the care, from scheduling shifts and task lists, to time sheets, daily reports, and messaging between families and caregivers.
One of the main challenges in hiring private caregivers is ensuring that they are trustworthy and qualified. Every caregiver on Kindly Care is screened and gets their own introductory video, where they speak about their experience, interests, and personal life. This allows families to narrow down their top candidates even before they connect with them via phone or in person. Every caregiver is also background checked, bonded, and insured.
The next challenge lies in registering caregivers and handling taxes, which involves a lot of administrative work. Kindly Care removes that headache by assisting families with all compliance aspects and setting them up as W-2 employers, which qualifies their caregivers for unemployment insurance, Social Security, Medicare, and workers' compensation insurance. Enabling families to provide some of the same benefits as agencies allows them to attract top talent and reduce turnover.
Finally, the day to day management of caregivers is made easier through Kindly Care's free apps that are available on iOS, Android, and on the web. The elders' adult children use those apps to schedule shifts and plan check lists, whereas the caregivers use the apps to track their time sheets, record shift notes, and communicate with the family or other caregivers to coordinate their work. "Caregivers are aware of the important role they play in recording the well-being of their clients," said CEO and co-founder of Kindly Care, Igor Lebovic. "It's inspiring to see the level of detail they capture in their notes that are then shared with the family members and the rest of the care team."
The startup is entering a competitive market, competing against online marketplaces like Care.com, Carelinx, and to some extent also Craigslist. According to KindlyCare, the key difference is its comprehensive care management platform, which is comparable to ClearCare's and HomeHero's products that are targeting agencies and hospitals. The combination of Kindly Care's marketplace of vetted caregivers and its care management platform allows private employers to experience the combination of the convenience, safety and compliance that's usually only possible when working with an agency.
Founders Igor Lebovic and Erik Fantasia previously developed the free diet and nutrition service Calorie Count, which has helped over 10 million people lose weight. Igor discovered his interest in matching families with caregivers after he was diagnosed with chronic Lyme Disease. "There are many similarities between Calorie Count and Kindly Care," said Erik Fantasia, CTO and co-founder. "When we launched Calorie Count, everyone thought we should be telling people what to eat, but instead we empowered our users to make their own decisions, and that's how most weight loss services work today. We now see a similar trend towards consumer-empowerment in elder care as well."