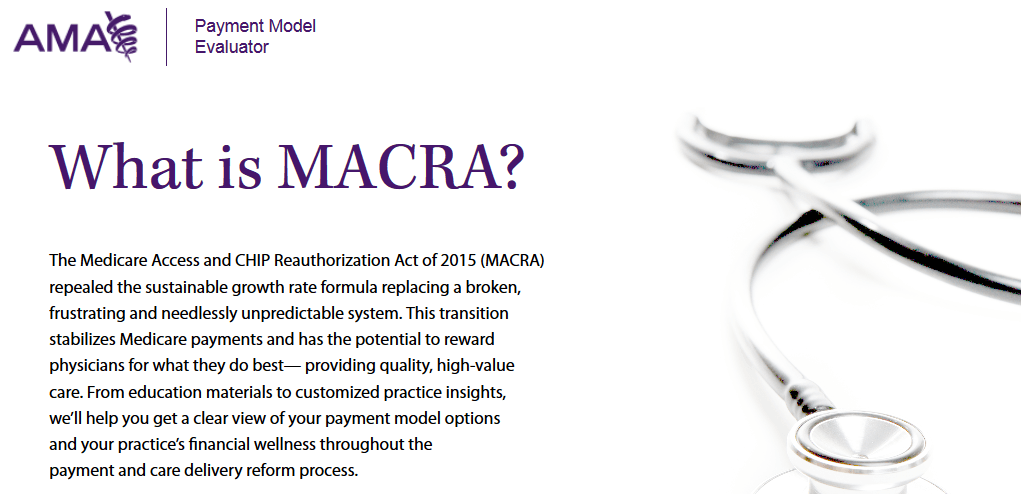 With physicians facing the most notable changes in Medicare in a generation, the American Medical Association (AMA) has unveiled several online tools to help physicians through pending Medicare payment and delivery changes and to improve their opportunity for success under the new program that will go into effect in 2017.
These new tools were designed to build on earlier, significant AMA efforts to ensure that physicians and their practices are prepared for MACRA: The MACRA webpage on the AMA's website has been a source of information on the changes facing physicians and their practices, and will continue to be a frequently updated source of information as the regulations are fine-tuned.
AMA Payment Model Evaluator
The new tool, AMA Payment Model Evaluator is an innovative tool offering initial assessments to physicians so they can determine how their practices will be impacted by the Medicare Access and CHIP Reauthorization Act of 2015 (MACRA). Developed with the expertise of physicians and input from partners, the tool will give physicians and their staff a brief assessment, as well as relevant educational and actionable resources.
Once physicians and medical practice administrators fill out the online questionnaire, they will receive guidance for participating in the MACRA payment model that is best for them. The AMA will continually update the Payment Model Evaluator to respond to regulatory changes and to keep practices up to date throughout the new payment and care delivery reform process. The tool is free to all physicians and their practice administrators.
AMA STEPS Forward
The AMA STEPS Forward™ collection of practice improvement strategies has new MACRA-specific tools. Accurate and successful reporting on quality metrics is crucial to the new Medicare payment system, both in the current Physician Quality Reporting System program and under MACRA's new Quality Payment Programs. Each STEPS Forward module focuses on a specific challenge and offers real-world solutions, steps for implementation,, case studies, continuing medical education, and downloadable tools and resources.
Physicians and their practice staff can use these to help improve practice efficiency and ultimately enhance patient care, physician satisfaction and practice sustainability. The full collection, which now includes 42 modules, has a variety of tools that will help physicians and their practices, including: 
– Implementing team-based care
– EHR selection and implementation
– Preparing practices for value-based care
– Implementing team documentation
– Quality Reporting and the importance of Qualified Clinical Data Registries (QCDRs) in maximizing your success
ReachMD podcast series
The AMA launched a ReachMD podcast series titled Inside Medicare's New Payment System. Andy Slavitt, acting administrator of the Centers for Medicare and Medicaid Services (CMS), Dr. Gurman, AMA staff experts, and others are featured on the series, which will include five episodes to help physicians be informed on upcoming Medicare changes.