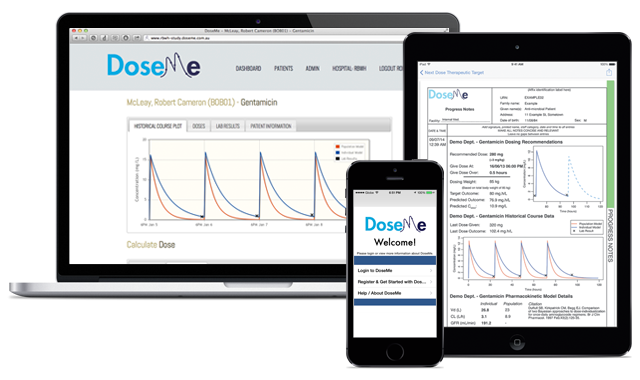 DoseMe, an Australian digital health startup has raised $2.6 million in Series A funding to expand its precision dosing platform. The company plans to utilize the latest round of funding to commercialize DoseMe in Australia, expand into the US and European markets and integrate with existing EMRs in key markets.  
Founded in 2012 by Dr Robert McLeay, the recent funding round was filled by Greg Spurgin and Gary Cunningham who co-founded an US outpatient orthopedic physical therapy company Results Physiotherapy, the DoseMe software platform is a simple-to-use precision dosing tool.
How DoseMe Works
Built on the principles of Bayesian dose forecasting, a complex mathematical algorithm that uses patient data and laboratory results to estimate a person's metabolism – their ability to absorb, process and clear a drug from their system. 
DoseMe achieves this by building a virtual model of each person, from as little as one laboratory result, by using thousands of data points from published population models. Once this virtual model of each individual is built – in less than a second – DoseMe helps clinicians dose more accurately, and precisely, calculating the most effective dose to reach the desired outcome. DoseMe continues to learn over time; continuously becoming more refined in its dose recommendations.
In addition, DoseMe can simulate the potential outcome of different dosing regimens to support clinicians in making the best decision for challenging cases.
Key patient benefits and cost savings of the platform include:  
– Increase childhood leukaemia survival by > 10% 
– Halve side-effects for chemotherapy. 
– Increase patients in therapeutic range from 35% to > 90%. 
– Reduce mortality by 50%. 
– Save more than $2,500 USD per patient. 
– Reduce hospital stay length by up to 16 days per patient. 
– Cost-benefit ratio between 4:1 and 52:1 
Additionally, DoseMe plans to expand the number of drug molecules on the platform (including regulatory costs for each molecule in Australia (Therapeutic Goods Administration), Europe (CE) where DoseMe has medical regulatory clearance, and the US (FDA) where DoseMe's submission is currently being reviewed.