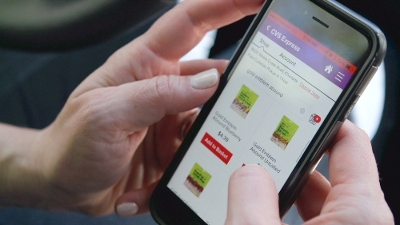 Today, CVS Pharmacy announced CVS Pay pilot, an end-to-end mobile payment experience designed to streamline their checkout experience at the store – combining multiple steps into one easy scan. Customers will now have the ability to refill, manage multiple prescriptions and get alerts when prescriptions are ready, all within the app – and then pick up and pay using a single barcode.
Customers can also link their ExtraCare card with CVS Pay, meaning a single scan at checkout will process all ExtraCare deals, earn new rewards and handle payment for the transaction. 
CVS Pay pilot is currently only available in select markets, including New York, New Jersey, Pennsylvania and Delaware. A nationwide rollout is expected to kick off later this year. The solution is available on iOS and Android devices – and works with all major credit (MasterCard, Visa, Discover, American Express), debit, Health Savings Account, and Flexible Spending Account cards.
How It Works
To use CVS Pay, customers simply add any of their credit or debit cards in the CVS Pharmacy® app. When they are ready to check out at a CVS Pharmacy store, they'll show the store associate the barcode in their app. (At the drive-thru, they'll share their pickup number.) The associate will scan the barcode, ring up the purchases, let the customer choose a payment method from those stored in the app, and then process the payment.
All verifications for prescriptions and payment – like name/birthdate, signature, and PIN – take place directly in the app, so transactions are hassle free. Once complete, the customer will receive a confirmation of payment in the app.
CVS Pay is the latest innovation coming out of the CVS Digital Innovation Lab, which has brought numerous new digital solutions to market over the past year to continuously improve the customer retail experience, including CVS Curbside pickup.  
"Over the past year, our digital team has brought to market numerous new digital tools – like CVS Pay – that make shopping at CVS Pharmacy easier and more convenient," said Brian Tilzer, Senior Vice President and Chief Digital Officer, CVS Health said in a statement. "We've been excited by the level of customer adoption of these digital solutions, and we will continue our quick pace of innovation and deployment to make our customers' health care experience even easier."