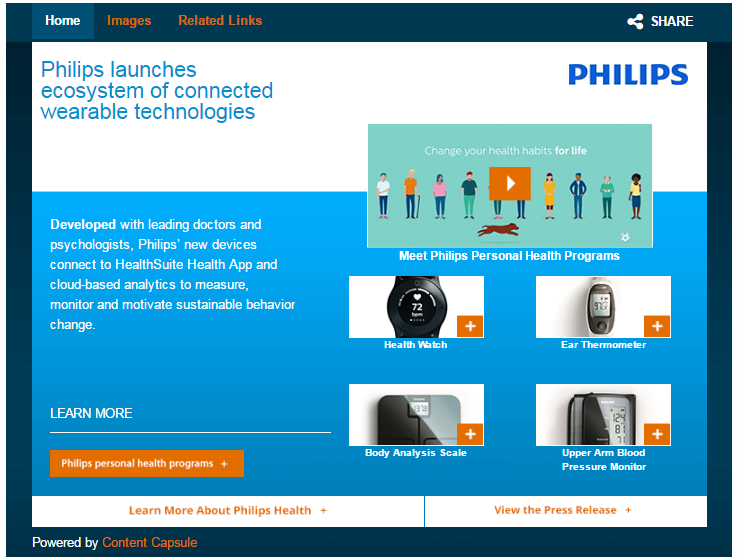 Philips has announced the global launch of of their clinically validated wearable ecosystem for consumers designed to empower consumers to take greater control of their health. Starting today, the medical grade health monitoring devices — a health watch, connected scale, blood pressure monitor and thermometer — and a fully integrated companion HealthSuite Health App is now available. 
Over 66 million Americans over the age of 50 have at least one chronic disease, yet research suggests that up to 90 percent of chronic conditions can be prevented through lifestyle changes. Philips' new products are designed to help those at risk of chronic disease to start measuring, keep monitoring and stay motivated in creating sustainable behavior change.
Goal of Phillips's Personal Health Programs
Philips' personal health programs provide personal, tailored support to people taking steps towards healthier habits. Developed with leading medical experts and psychologists, they empower individuals to:
1. Start Measuring: accurately track with the range of Philips connected health measurement devices
2. Keep Monitoring: view data through an easy-to-use dashboard on the Philips HealthSuite health app
3. Stay Motivated: stay in control of their health by tracking progress toward personal goals
Medical-Grade Wearables Overview
The programs are designed for individuals who are at risk of developing chronic, lifestyle related conditions and who are aware of their higher risk status and are active in managing it.
Each program comprises connected health measurement devices, an app-based personalized program, and secure, HIPAA-compliant cloud-based data analysis. The medical grade devices include:
– The health watch, which continuously and automatically measures a wide range of health biometrics, including heart rate, activity, and sleep patterns. It helps people seeking to prevent or manage lifestyle-induced chronic conditions by providing accurate and clinically validated measurements, enabling people at risk of disease to track their health on a day-to-day basis and identify how their daily lifestyle is impacting their health. $249.99 
– The upper arm blood pressure monitor and wrist blood pressure monitor, which allow you to measure your systolic and diastolic blood pressure as well as your heart rate. Upper arm: $99.99; Wrist blood pressure monitor: $89.99 
– The body analysis scale, which measures weight, estimates body fat (BIA), and calculates BMI. $99.99 
– The ear thermometer, which allows you to accurately measure body temperature in two seconds. $59.99 
"Our personal health programs are different because they're built to motivate the user, showing that small steps can lead to big results," said Dr. Mark Aloia, Behavior Change Expert, Philips in a statement. "Changes don't need to be radical. In fact, small changes sustained over time are a good way to help us reach our health goals. Measuring and tracking helps us take the small steps needed to improve our lifestyle. Our programs support you personally as you take those steps."