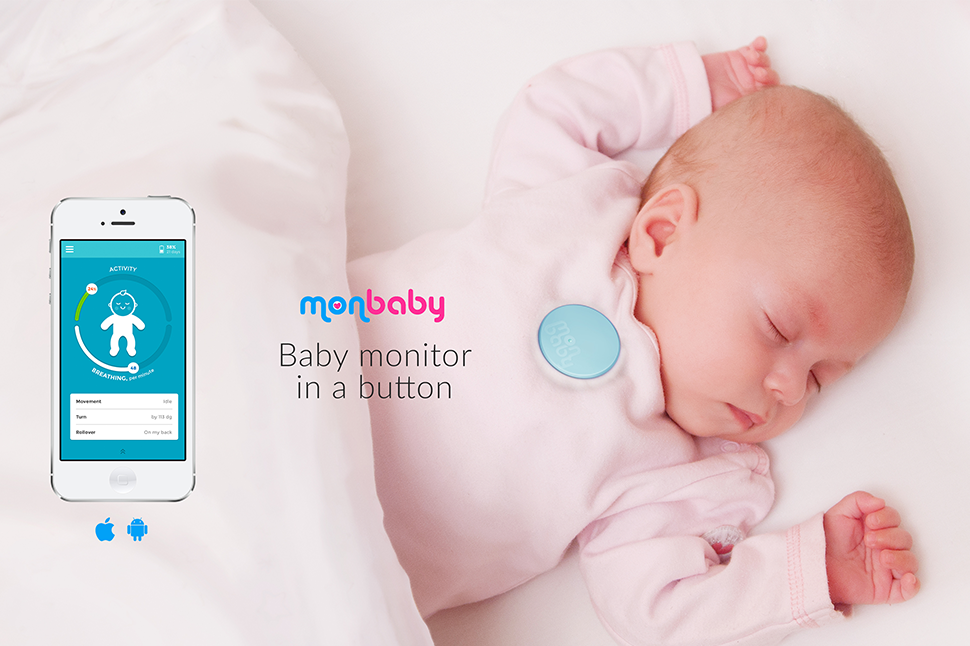 Target will soon expand its 'connected living' offerings with the addition of wearable breathing and rollover monitor MonBaby.  Manufactured by MonDevices, Inc., MonBaby is a baby monitor that snaps onto any article of a child's clothing in the form of a smart button that sends a baby's stats to parents via a complementary smartphone app.
MonBaby brings peace of mind to new parents by sending smartphone alerts about body position, breathing (on the back or stomach), sleep position and proximity via the app. Measurements are done in real-time, five times per second, and transmitted to our smartphone app. It's an important tool in helping parents follow the American Academy of Pediatrics' safe sleep recommendations, which state that babies should always be placed to sleep on their backs.
The monitor will soon be featured in 444 brick-and-mortar Target stores across the United States. Each of these stores will carry the retailer's new Connected Home line announced in 2015, which features a selection of smart gadgets from world-renowned brands like iRobot and Samsung.
"Target has done an amazing job of embracing the concept of connected living, and it's an honor to be featured among the many innovative offerings in that space," said MonDevices CTO and MonBaby inventor Arturas Vaitaitis in a statement. "We're excited about the expansion from an online presence with Target to placement within the retailer's stores. It's a big win for us."
MonBaby has been available on Target.com and a multitude of other online retail channels since early 2016. A portion of the brick-and-mortar stores carrying the device will by Target's Baby 360 specialty stores, which launched in 2013.