This post is sponsored by  ScienceSoft, an international software development and consulting company with 11 years  of experience in custom healthcare software development. ScienceSoft creates caregiver-connected solutions to advance chronic disease management and empower continuous communication with patients.
When patients try to balance their health in chronic obstructive pulmonary disease (COPD), it's like walking a tightrope. People need to keep calm, be cautious and move forward. In the meantime, caregivers' mission is to make their paths as safe as possible, supporting and backing up every step. For this purpose, providers can use technology. Providers can introduce the concept of a single mobile app that serves as a communication and motivation tool between patients and their caregivers, backed by a central COPD management system.
The Safety Cable for COPD Management
As for any chronic disease, the safety cable for COPD patients is a systematic approach and patient engagement. Traditional face-to-face appointments are not enough to provide ambulatory patients with continuous care and proper motivation. They're not frequent enough.
World Health Organization's (WHO) working group report states that only a few health specialists consider it necessary to explain to patients how they should manage their disease. WHO suggests that the reasons lie in a scarce amount of time allocated per appointment and / or physicians' low awareness of how important it is to discuss chronic care management with their patients.
So who will fill in the gaps created by rare appointments and poor therapeutic education of patients? Digital health can lend a hand for both COPD patients and their caregivers.
COPD: A 'Vicious Circle' Challenge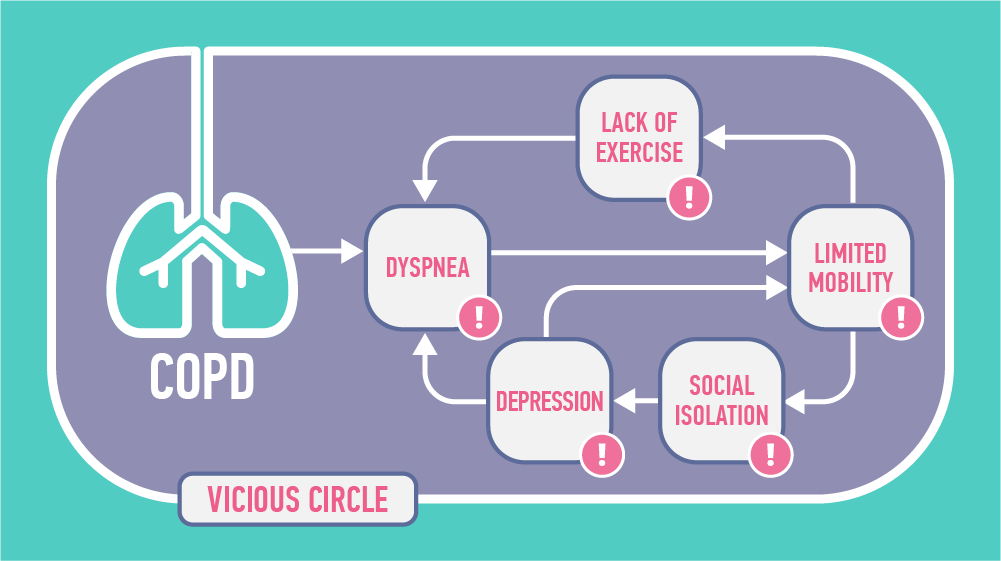 The disease itself causes troubled breathing aka dyspnea. When every activity makes patients choke and chink, they tend to exercise less. This then weakens their heart and lungs, which results in even more severe dyspnea. This limited mobility leads to social isolation as patients get used to a less active life. They tend to spend more time at home, and this is where depression strikes. Loneliness triggers anxiety, bad sleep and the cycle starts all over again.
Tackling this challenge is essential for COPD treatment, as each piece of the circle is interconnected with other problems and leads to less or more serious complications. To succeed in escaping this 'vicious circle', we suggest pulmonary rehabilitation backed by technology. Rehabilitation contains elements that allow patients to deal with each of the problems individually.
Digital Health-based Pulmonary Rehabilitation Cycle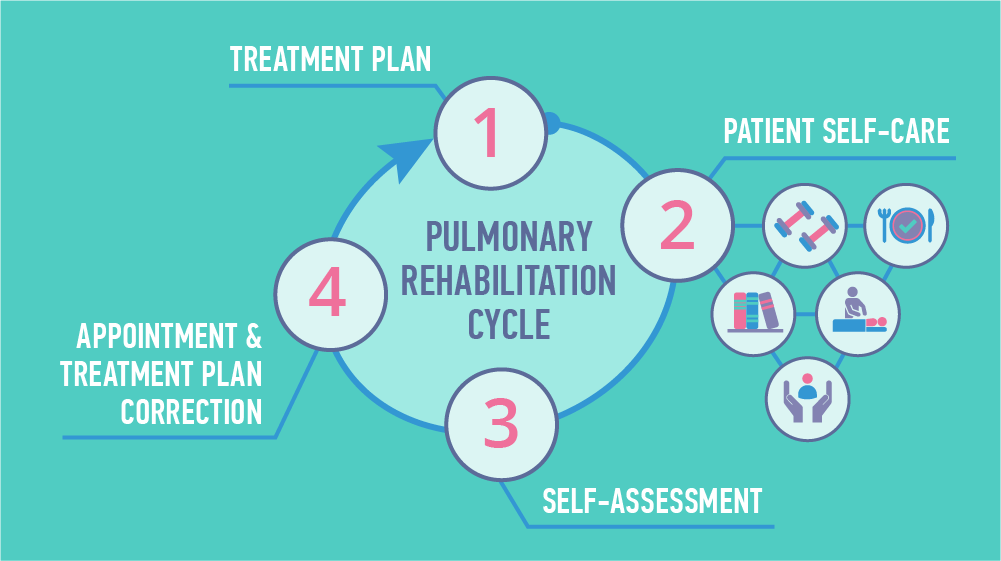 The major part of COPD management is pulmonary rehabilitation that consists of therapeutic education, psychosocial support, general physical exercises, selective muscle training, physiotherapy and nutritional status support. The rehabilitation plan should be specifically designed to support individual needs of a particular patient. It is applied to both ambulatory patients and inpatients.
Practically, technology can support all the subcomponents of pulmonary rehabilitation. It's just a matter of the right choice of components. Such patient-caregiver interaction would be most effective for both sides. Providers could remotely monitor individuals' health and progress-in-treatment plans and suggest appointments and checks when needed, thus ensuring improved health outcomes. Patients get a go-to COPD management tool with all the needed information at their fingertips.
Pulmonary Rehabilitation Individual Components:
Therapeutic education: Individuals can access the most important topics for his or her condition and its severity. For example, caregivers can highlight the following topics specific to their needs such as: COPD basics and how to treat it; how to quit smoking; bronchial drainage overview; tips on dyspnea management; breathing techniques; physical and respiratory muscle training; and healthy diet advice.
General physical exercises & peripheral muscle training: Even when a patient can't afford a personal trainer, it's not an excuse to give up on therapeutic physical activities. With the help of a mobile app, caregivers can support individuals with bite-size recommendations on how to exercise properly and videos on how to properly do them.
This feature can be split into two parts – one to contain learning materials and the other to be precise training programs with specific instructions.
Learning materials are great for providers to explain why COPD treatment includes regular physical activity and highlight particular benefits, e.g. stronger heart and cardiovascular systems, increased endurance, improved energy and reduced dyspnea. Caregivers can also tell patients to read brief articles on smart exercises and techniques
The training part would allow patients to access specifically designed programs for endurance and strength improvement. Providers would have a wide range of options to offer – warm-up videos, daily kinesiotherapy module sessions, respiratory training guidelines, breathing techniques, meditation podcasts and more.
Physiotherapy: This part of pulmonary rehabilitation can involve both inpatient and ambulatory procedures. For example, patients might have their inhalation therapy devices at home, so a mobile app can support pre-defined reminders and education materials on inhaling. On the other hand, caregivers can offer personalized discounts on particular COPD physiotherapy procedures or offer bundle packages (e.g. massage and balneotherapy).
Nutritional status support: More than 25% of COPD patients experience a significant weight loss and muscle mass reduction, thus they have to stick to a calorie-rich diet with high-fat foods (e.g. olive oil and nuts). In some cases, patients also take anabolic steroids to complement their nutrition goals and gain more weight.
On the other hand, overweight patients need to decrease pressure on their heart and lungs. Their diet should be based on low-calorie meals with protein (lean cuts of meat, poultry and fish) and complex carbohydrates.
Caregivers need to accurately address the needs of different patients, considering their goals and suggesting relevant food tips via a mobile app. On the app, caregivers can try different options and find what will work best for patients to include sets of healthy choices for a week, beneficial highlights on superfoods, recipes of potassium-loaded smoothies, daily cooking challenges and more.   
Psychosocial support: This function can be implemented in different ways. A mobile app can have an emergency button to call the caregiver's hotline. One could also make secure video conversations with a patient's physician, which also allows a provider to receive telemedicine reimbursements. A Q&A chat might also be a complementary option. If a caregiver arranges special COPD support group meetings, the app can notify all patients and invite them to come.
Self-check Support
Caregivers can take these instructions and evolve remote care further. With more visibility through self-check options, patients can manage their COPD, fulfill treatment plans, regularly assess their current health status and develop intrinsic motivation.
Dyspnea assessment: Within the app, providers can implement different scales for dyspnea assessment, from a visual analogue and the Borg point scale to the verbal 'language of dyspnea'. After a patient finishes dyspnea assessment, this data is gathered, automatically processed and analyzed by a caregiver.
If an individual doesn't check his or her dyspnea for a few times in a row, the application can remind them about the missed assessments automatically.
Cough assessment: Inside a mobile app, a patient can use a visual analogue scale, cough assessment point scale and cough diary for self-check. Of course, this PGHD piece is also collected and analyzed. Notifications on missed self-checks can be optionally enabled.
Oximetry: Each patient's treatment plan includes his or her specific oxygen saturation (SpO2) target and the regular flow rate that should keep saturation normal. Individuals can use pulse oximeters at home and record the SpO2 and pulse rate into the app.
Depending on the mobile device, patients can input readings manually or synchronize their smart oximeter with a mobile app for automatic data collection. In the event that the PGHD indicates abnormal results, patients and their physicians can be notified to initiate an additional check and ensure that an individual's SpO2 level is acceptable for his or her condition.
Capnography: Not every patient will have a capnograph at home. Caregivers can still consider implementing the option to input the paCO2 level, respiration rate (RR) and EtCO2 measurements. Hand-held portative capnographs can be used in and out of the hospital. Individuals can purchase this medical device to monitor changes in breathing when performing their respiration exercises.
Diet diary: Apart from simply receiving recipes, it is advisable for patients to track their daily meals. For this reason, caregivers can create a journal for a patient's nutrition records in a mobile app. It can include built-in calculators to count carb, protein and fat consumption. Patients can also log beverages to reduce the amount of caffeine and alcohol, since these two can interfere with certain medications.
A weight record option could also be included in the application, so that both a patient and a caregiver can see how the patient progresses towards their nutritional goals. The patient's diet might lack important macro- and micronutrients for a certain period of time (from a week up to a few months), or their data might show unplanned weight loss or gain. In these cases, both a caretaker and a physician can get an automatic notification and undertake necessary actions.
Assessment of COPD Treatment Plan Results
Day by day, patients have to deal with various limitations, pass numerous procedures and take tests. We can't expect that they'll stay positive and motivated without seeing any results of their efforts. Since the functional improvement of lung capacity doesn't necessarily lead to objective pulmonary function improvement, patients walk in the dark blindfold.
Evaluation of each individual's treatment plan is to be performed based on the information gathered from the app, health tests and checks for a certain period of time. A physician can check oximetry, dyspnea and cough self-assessment results, as well as review their patient's weight, medication and nutrition trends. According to all of this information, the treatment plans can be adjusted and updated to fit the individual's health status and new goals best.
For the sake of effective patient engagement and motivation, adding gamification elements and social media sharing options can help patients feel rewarded.
Another option would be to introduce discounts on regular checks, tests, physiotherapy procedures and bundles as daily points. Patients can accumulate points for uninterrupted app entries for, let's say, seven days in a row and can be rewarded with gift cards or discounts. Alternatives are numerous and they depend only on providers' creativity and capabilities.
Technical Implementation Details
The core element of our concept is an HIPAA-compliant CRM-based COPD management system (COPD MS) interlinked with both the EHR and the mobile application (as its backend). COPD MS allows caregivers to:
– Empower inbound and outbound data flows to and from the mobile app;
– Notify both patients and physicians about dyspnea assessment gaps, disturbing oximetry results, inadequate meal choices; and
– Synchronize PGHD insights with the EHR.
To learn more about ScienceSoft's custom chronic disease management system, visit https://www.scnsoft.com/chronic-disease-management-solutions