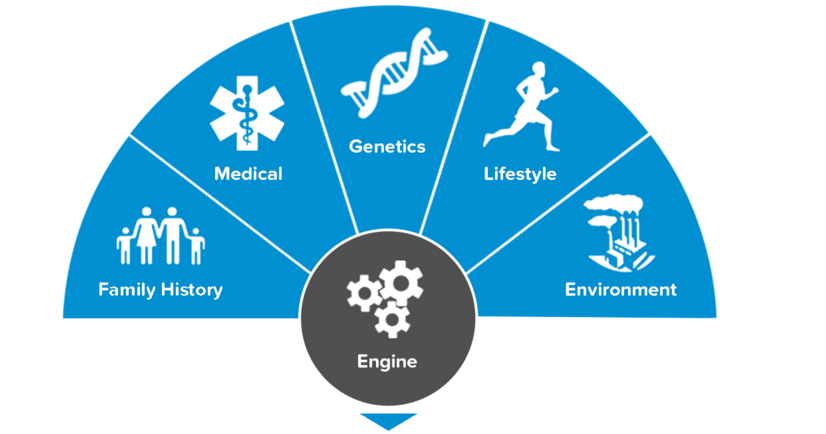 BaseHealth, a comprehensive predictive analytics company for healthcare has inked a partnership with Canada-based Executive Health Centre, one of the leading preventative health care clinics in North America. Through the partnership, Executive Health Centre will leverage BaseHealth's genomics-based predictive analytics engine to enhance their personalized wellness assessments and action plans. The integration is being rolled out to Executive Health Centre's patients effective immediately.
BaseHealth's technology expands Executive Health Centre's ability to construct predictive models sensitive to each patient's genetic data. In quantifying an individual's risk for chronic conditions, BaseHealth currently accounts for over 1500 genetic factors.
BaseHealth's assessments focus on preventable conditions and delivering insights that empower healthcare professionals to intervene when behavioral change is most effective: before patients fully develop chronic or life-threatening conditions.
The assessments are conducted with the oversight of Executive Health Centre's integrated health team of physicians, naturopathic doctors, nutritionists, and health coaches who leverage precision medicine, the digitization of medical data and the power of predictive analytics to transform personalized wellness.
With BaseHealth's assessments as a guide, they determine the best preventive approaches to manage health risk and develop personalized therapeutic methods to manage chronic conditions.
"Our health team is always evaluating new technologies that advance our understanding of the unique physiology and behaviours of each of our clients," said Dr. Elaine Chin, the founder of Executive Health Centre in a statement. "We will continue to improve patient health record technologies using predictive analytics rules engines such as those from BaseHealth to improve patient outcomes and peak performance."
BaseHealth's predictive model for health assessments is backed by more than five years of extensive disease research and built on validated data from over 30,000 peer-reviewed articles. It currently includes data on specific risk factors for more than 40 common complex diseases as well as information on 24 drug responses and 14 food responses, with more research regularly being added to the platform.
Basehealth provides users with a snapshot of their key health indicators, including clinical, lifestyle, and behavioral data and comprehensive health assessments, giving them a 360-degree view of their health and the actions that could lower their disease risk.