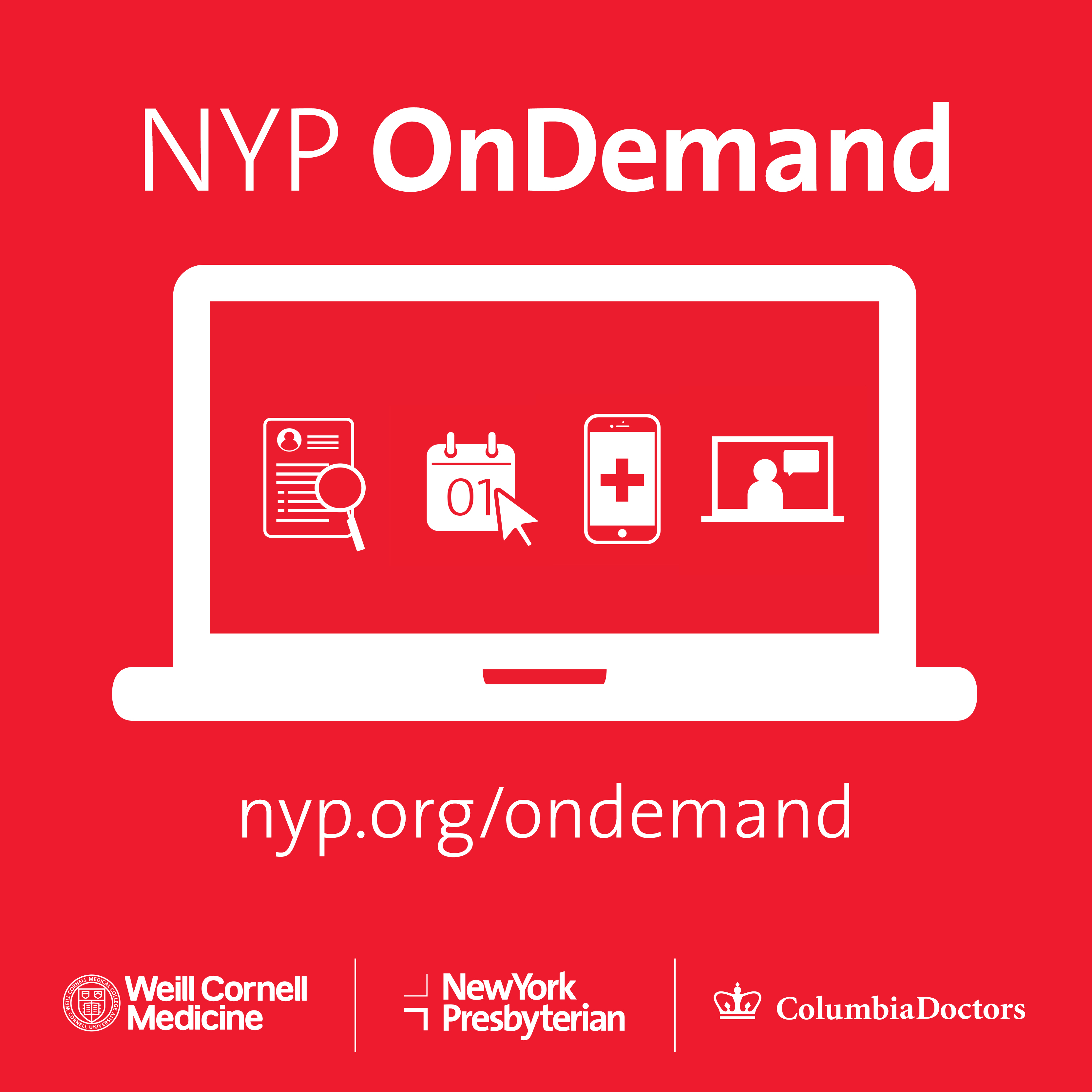 NewYork-Presbyterian has announced an expansion of its telehealth efforts with the launch of NYP OnDemand, a new suite of digital health services designed to improve and expand patient care, while also extending access to the clinical expertise of NewYork-Presbyterian's physicians to their peers throughout the Hospital's vast healthcare network.
The NYP OnDemand suite of services was developed by NewYork-Presbyterian's Innovation Center, launched in 2014 to deliver both clinician- and consumer-facing solutions to enhance care delivery. NewYork-Presbyterian is one of the largest, most comprehensive medical institutions in the nation and the only one on this scale to implement an enterprise-wide, comprehensive digital health portfolio.
The project was catalyzed by the visionary support of Rita E. and Gustave M. Hauser, NewYork-Presbyterian's longtime philanthropic partners. This most recent gift builds on the couple's previous investments in telehealth infrastructure, further elevating the Hospital's ability to connect patients and clinical staff in new and innovative ways.
NYP OnDemand is comprised of telehealth services for both patients and providers, available on the NewYork-Presbyterian website and mobile app, and will ultimately include these key areas of service:
– Digital Second Opinion: NewYork-Presbyterian specialists from both ColumbiaDoctors and Weill Cornell Medicine can now offer their world-class clinical expertise for second opinions to patients around the country — and eventually, the globe — through an easy-to-access online portal. Patients are walked through the entire process without having to wait for an in-person appointment.
– Inter-hospital Digital Consults: Connecting patients at NewYork-Presbyterian's Regional Network Hospitals to NewYork-Presbyterian Hospital specialists, Inter-hospital Digital Consults provide greater access to advanced, specialty care for patients across the New York City metro region and facilitate real-time communication between providers.
– Digital Emergency and Urgent Care: As part of a new pilot program, visitors to the Lisa Perry Emergency Center at NewYork-Presbyterian/Weill Cornell now have the option of a virtual visit through real-time video interactions with a clinician after having an initial triage and medical screening exam. This will be done in a private room with a webcam/monitor, significantly reducing time spent in the Emergency Department.
For any non-emergency conditions that require expedited treatment, patients will eventually also be able to access a separate virtual urgent care service from NewYork-Presbyterian/Weill Cornell doctors from the comfort of their home via the NYP OnDemand smartphone application.
– Digital Follow-Up Appointments: Launching in fall 2016, Digital Follow-Ups will provide patients a virtual follow-up option, instead of asking patients to come back to the office in person. The service offers a more convenient way to access care without another trip to the doctor.
Among the first services available for patients is NYP OnDemand Second Opinion. Launched earlier this summer in collaboration with ColumbiaDoctors and Weill Cornell Medicine, the service connects patients from anywhere in the country seeking a second opinion on their diagnosis from clinical experts at NewYork-Presbyterian.
After a patient initiates the process online, they are assigned a care coordinator matched with the best physician for their condition, resulting in a written second opinion to the patient — all without having to leave the comfort of home. Equipped with the second opinion, the patient can then make a more informed decision about their treatment plan and, if they choose, opt to receive care at NewYork-Presbyterian.
To date, NYP OnDemand Second Opinions are offered by over 300 physicians in 80 medical specialties.
In addition to the patient access services, NYP OnDemand also facilitates real-time peer-to-peer physician consults within the nine hospitals that are part of the NewYork-Presbyterian system. The NewYork-Presbyterian Telestroke Initiative, which has been deployed at NewYork-Presbyterian/The Allen Hospital and NewYork-Presbyterian/Lower Manhattan Hospital, uses video conferencing and data sharing to allows 24/7 coverage for acute stroke care with rapid evaluation by a neurologist with stroke expertise.
To date, the telestroke service has resulted in improved door-to-treatment times, which has been shown to improve overall patient outcomes. In the coming months, additional digital consult services such as behavioral health, emergency medicine, and pediatrics will also be established.